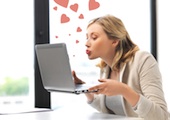 One minute you're on OK Cupid chatting it up with some hot thing, getting all goose-pimply.
Next, he asks you to move the conversation to a nice, cozy social networking site.
The patter gets intimate, photos get posted, phone numbers get swapped, and next thing you know, the malodorous intentions of M. Pepé Le Pew come wafting through.
To wit: you get a link to a website where your conversations have been posted, along with the photos and the phone numbers. The website adds injury to insult and smears victims of the scam, calling them "cheaters".
Want it taken down? That will cost you $99 (£59). And even then, the blackmailers don't take down the content.
This is only one of the recently reported dating extortion scams that the US Federal Bureau of Investigations (FBI) is warning about this Valentine's Day.
Millions of us go to online dating websites to find a companion or even a soulmate, but the FBI wants us to know that bad guys visit the sites as well, looking to squeeze a quick buck out of lonely, vulnerable people through a variety of scams.
It's not just online dating sites, of course. They also troll social media sites and chat rooms in search of victims.
The crooks often claim to be Americans traveling or working abroad, but they often live overseas in reality, the FBI says.
The most common targets are women over 40 who are divorced, widowed, and/or disabled, the agency says, but even if you're not in that bracket, don't let that make you feel safe.
The crooks don't discriminate against any age group or demographic, which means we're all at risk.
The scams often start with a crook contacting a victim online. The scammer appears interested, and he/she might have a profile or a picture they're happy to send via email.
The flirtation can last for weeks or even months. Sometimes, the Lothario will send flowers or other gifts.
Sooner or later, though, your new cuddle muffin gets into one of a gazillion invented fixes, and that's when you get hit up for money.
Sending money won't stop the scam. More fictional hardships will arise, and only you can help out by sending more money, the con artist makes clear.
Sometimes, the seducer will send checks for you to cash, since he's out of the country and can't do it himself, or he might ask that you forward him a package.
But the pictures of the sweetie pie were probably lifted from other websites, and the profiles were likely just as fake – carefully crafted, even, to match what the crooks think you're looking for.
Victims lose their money to people like this – people who woo without any intention of visiting their marks, as they promised.
Victims may also unwittingly participate in money laundering by cashing bogus checks and sending the money overseas, or by shipping stolen merchandise via a forwarded package.
How do the criminals latch onto their victims in the first place?
We leave the door wide open for strangers to milk us when we publicly post online details about our lives that crooks can then use to con us. That goes for online dating sites, of course, but also to places like Facebook.
In fact, No. 1 in Naked Security's 5 tips to make your Facebook account safer is to make sure that only friends can see your profile.
We said it then, and it bears repeating: you wouldn't just go up to a stranger in the street and start telling them about your life, so why would you want strangers to see your Facebook profile?
Particularly when those strangers pretend to be drop-dead gorgeous paramours flirting with you.
The FBI suggests online daters should keep an eye out for someone who:
Presses you to leave the dating website you met through and to communicate using personal email or instant messaging;
Professes instant feelings of love;
Sends you a photograph of himself or herself that looks like something from a glamour magazine;
Claims to be from the US and is traveling or working overseas;
Makes plans to visit you but is then unable to do so because of a tragic event; or
Asks for money for a variety of reasons (travel, medical emergencies, hotel bills, hospital bills for a child or other relative, visas or other official documents, losses from a financial setback or crime victimization).
Dating scams aren't the only thing that romantics have to contend with on Valentine's Day.
In previous years, Naked Security has reported on Valentine's Day spam, Valentine Facebook scams, SMS scams and malicious ecards preying on all the lovers out there.
If you're a US person and think you've been conned in an online dating scam, the FBI asks that you file a complaint with its Internet Crime Complaint Center at www.ic3.gov. If you're in the UK, you can file an online report at the Action Fraud website.
Happy Valentine's Day, and may this crazy little thing called love not vacuum out this crazy little thing called your wallet!
Image of online dating courtesy of Shutterstock.