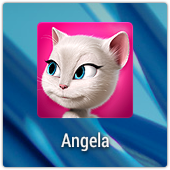 Facebook is a persuasive medium: a lot of people pay a lot of attention to what they read there.
That's not surprising, because a lot of what you read on Facebook is shared or liked by your friends.
Unfortunately, that sometimes means that hoaxes spread extensively on Facebook, and are hard to extinguish when they get going.
A good example is the Talking Angela hoax, a security warning about a game for Android and iOS devices – a game that is probably best described as "mostly harmless," but that has acquired a sinister, dangerous reputation on Facebook.
Simply put, the game features a cartoon cat called Angela, sitting at a pavement cafe in Paris.
She responds amusingly, if somewhat unconvincingly, to what you say.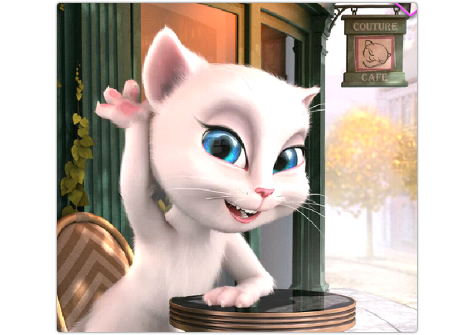 If you turn on your camera, Angela will also use basic facial recognition to react to your gestures.
The game is obviously intended to appeal to children, and features a "child mode," which is supposed to limit the sort of questions that the cat will ask.
About a year ago, this led to a widely-circulated Facebook hoax that claimed the game was deliberately (and secretively) acquiring information about your children, as good as implying that the game put your family at risk from child abusers:

WARNING FOR TO ALL PARENTS WITH CHILDREN THAT HAVE ANY ELECTRONIC DEVICES , EX : IPOD,TABLETS ETC .... THERE IS A SITE CALLED TALKING ANGELA , THIS SITE ASKS KIDS QUESTIONS LIKE : THERE NAMES , WHERE THEY GO TO SCHOOL AND ALSO TAKE PICTURES OF THEIR FACES BY PUSHING A HEART ON THE BOTTOM LEFT CORNER WITHOUT ANY NOTICES . PLEASE CHECK YOUR CHILDREN'S IPODS AND ALL TO MAKE SURE THEY DO NOT HAVE THIS APP !!! PLEASE PASS THIS MESSAGE ON TO YOUR FRIENDS AND FAMILY MEMBERS THAT HAVE KIDS !!!!
Lots of things about this warning scream, "Bogus!"
The use of ALL CAPS, the mis-spellings, the illiterate punctuation, and the almost casual inaccuracies – it talks about a "site" in one sentence and an "app" in the next – ought to have been enough to condemn this warning to the dustbin of history at once.
But there was just enough truth for people to pass it on anyway.
For example, the app used to have a heart-shaped button for taking pictures, though it was no more sinister than your phone's regular camera app. (The bit about taking pictures "without any notices" was untrue, by the way.)
So this hoax reached a critical mass, as more and more people endorsed it, and their friends endorsed it in turn.
We wrote about this hoax almost exactly a year ago, in February 2013.
Well, the Talking Angela hoax is back, this time going well beyond merely implying that the game puts your family at risk: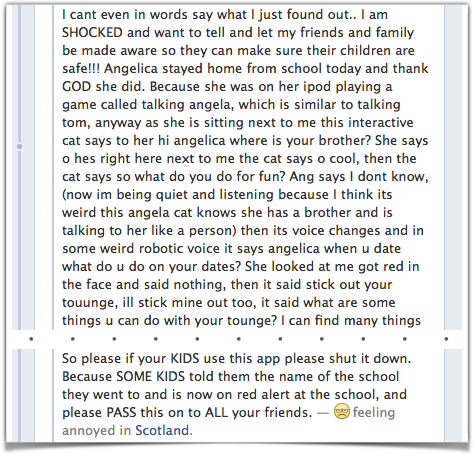 I cant even in words say what I just found out.. I am SHOCKED and want to tell and let my friends and family be made aware so they can make sure their children are safe!!! Angelica stayed home from school today and thank GOD she did. Because she was on her ipod playing a game called talking angela, which is similar to talking tom, anyway as she is sitting next to me this interactive cat says to her hi angelica where is your brother?...

...So please if your KIDS use this app please shut it down. Because SOME KIDS told them the name of the school they went to and is now on red alert at the school, and please PASS this on to ALL your friends.
We've left out the bulk of the rant – it's close to 600 rambling, repetitous words, despite claiming at the start that it didn't have words to describe the situation.
It's ill-written, and borders on being illiterate and incomprehensible.
Indeed, you ought to be able to see from the parts we've quoted above that this is not the sort of posting you should be using to inform yourself about online privacy.
Here's why, in the form of three tips.
1. Stop. Think. Apply some critical reasoning.
Hoaxes can be well-written, and truth can be written badly.
But when everything about a written article screams, "Why would I believe this?" then, to ask an obvious question, why would you believe it?
Importantly, when an article makes very specific claims on behalf of other people, it should at least provide credible links that back the story up.
For example, in the 2014 version of this hoax, the author writes, "The police are saying take it off of your phone," without backing up that claim at all – so if you pass on the hoax uncritically, you too are putting words in the mouths of the police.
In particular, be suspicious of endorsing computer security articles that make specific technical claims without giving technical specifics.
Even if the article turns out to be correct, you were taught at school to "show your working" for good reasons.
Reaching the right conclusion for the wrong reason is unhelpful, and gives you a false sense of your ability to solve similar security problems in future.
And reaching the wrong conclusion is, plainly and simply, wrong, and means you are likely to waste time trying to fix security problems that don't exist at all.
2. Don't forward hoaxes "just in case".
Even when you know, or strongly suspect, that a story is untrue, it's tempting to pass it on anyway, and to rely on the recipient making his or her mind up:

Whether or not it's a hoax it's good to share so people can be looking at what their kids are on all for a good cause right people.
But that's simply not true.
Remember the boy who cried, "Wolf!" unnecessarily, until his fellow villagers simply wouldn't believe him any more?
When a real wolf showed up, they ignored him.
3. Remember that security is a journey, not a destination.
The attractive thing about the Talking Angela hoax is that it promises an easy fix, at least to the millions of people who have the app installed: simply remove it.
But the hoax doesn't offer any additional advice, or call for any general sort of vigilance to protect your children online.
For example, the makers of the Talking Angela app have numerous similar apps featuring other characters such as Santa, Pierre the Parrot and Ben the Dog – yet the hoax fails to mention them at all.

And if you're worried about your children being exposed to apps that can take photos, or upload personal information to Facebook, shouldn't you be worrying about what your children get up to with the regular Camera app, or the built-in browser?
There's a great comment, posted on our previous article about this hoax, that we thought worth repeating here:
Check out the app for yourself and if anything doesn't sit well, don't let the kids at it. It's called parenting and more people need to try it.
For further information