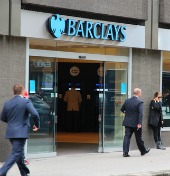 Hi-tech fraudsters stole more than one million pounds from a Barclays bank branch in a "sophisticated and organised attack" on Britain's banking system, a court has heard.
Prosecutors allege that £1.25m was stolen from the Swiss Cottage, UK, branch of the bank in just one day after a gadget was attached to the manager's computer.
Five men are standing trial at Southwark crown court, facing various charges relating to an alleged scam to steal huge amounts of money from UK banks in 2012 and 2013.
The jury heard how the gang used a keyboard video and mouse (KVM) device attached to the manager's computer to give them remote access to the machine.
Duane Jean-Jacques, 25, an employee at the branch where the alleged fraud is said to have been carried out, was described as the "inside man" after it was said that he met a man posing as an IT technician and led him to the manager's office where the bogus visitor attached the KVM.
The device, said to have been controlled from a nearby hotel, allowed the gang to access bank accounts and siphon funds via 128 separate transactions made from six high-value business accounts.
Prosecutor Simon Farrell QC said:
Once you've gained access, the criminals are able to access the mainframe of the bank's accounts to transfer funds to other or new accounts.
The court heard that the transactions were all for amounts under £10,000 but took only a few seconds each to complete. Victims include the University of Portsmouth and the London Metropolitan University.
After the alleged fraud on 5 April last year police raided a property in Seymour Street, Marylebone, where they discovered an "Aladdin's cave" of banking documents, credit cards and electronic equipment.
The jury heard that police found the property "stuffed to the rafters with material for use in credit card fraud", including 75 bank letters with credit cards and associated PINs and security questions.
The court heard how the gang stole "in excess of 400,000 pieces of Royal Mail" as part of the scam which saw American Express and Coutts customers conned into handing over their security details.
It was also claimed that hundreds of UK credit cards were found stuffed in a box, along with "sophisticated machinery" allegedly used to dupe customers into handing over their PINs.
The setup, it was said, used 24 different SIM cards to make automated calls to prospective victims who were tricked into believing it was their own bank making the call.
When police searched the home of defendant Lanre Mullins-Abudu in Putney, they discovered a crib sheet listing compromised banking details along with a KVM switch and a mobile router.
The prosecution told the court how associates of Mullins-Abudu allegedly went on a shopping spree in shops such as Harrods and Selfridges where they tried to buy high value goods, including Rolex watches, using stolen credit cards.
Jean-Jacques stands accused of conspiracy to steal credit balances at Barclays along with concealing criminal property, a charge he denies.
Mullins-Abudu is accused of the same, in addition to conspiracy to commit credit card fraud, as well as other charges associated with a similar attack on a branch of the Spanish bank Santander.
Other alleged gang members Stephen Hannah and Lewis Murphy deny conspiracy to commit fraud using credit cards and Akash Vaghela denies conspiring to steal credit balances in the Santander case.
Image of Barclays courtesy of Tupungato / Shutterstock.com.