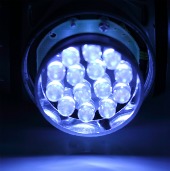 We've already had London's rubbish bins snooping on us, US police wanting to tap into property owners' private security cameras, proliferation of gunshot-detectors, license plate readers popping up like bunnies in the spring – the US Department of Homeland Security is now seeking a national license tracking system – and even at least one drone purchased by a Texas police department.
That's already a lot of things watching us. Now, there's another.
As you turn your head to ponder what devices might be recording you, add an upward gaze, because LED light fixtures are emerging on the list of potentially snooping, networked things.
Specifically, the New York Times reports that the clean, bright light of newly installed LED fixtures illuminating Terminal B at Newark Liberty International Airport, in the US state of New Jersey, are part of a new wireless network that's watching visitors.
The 171 LED fixtures are the backbone of a system that feeds data into software that can spot long lines, read license plates, identify suspicious activity and alert the appropriate staff, the NYT reports.
Executives in charge of the airport are already talking about expanding it to other terminals and buildings, the newspaper says.
The mass collection of data should certainly sound familiar to anybody whose head hasn't been under a rock over the past year (helloooooo, NSA!).
Likewise, data collection by law enforcement (or transportation security agents, in this particular case) is in keeping with the trend for US cities to increasingly gobble up data on residents.
The NYT reports that the Newark Airport authorities will maintain the data its networked light fixtures suck up and that no other agencies will have access to it without a subpoena or written request.
That may not, of course, matter. The need for a subpoena, written request, or even a reasonable suspicion of wrongdoing certainly doesn't stand in the way of the US government conducting surveillance or searches, as the controversy over NSA warrantless surveillance has made clear.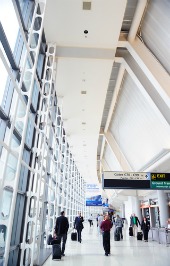 The NYT describes the airport's foray into lighting-cum-surveillance as part of an expanding market for lights, sensors and software that can capture and analyze vast amounts of data on ordinary citizens.
The lights have special chips and connect to sensors, cameras and one another over a wireless network.
The company that developed the system, Sensity Systems, is poised to take the technology much further, having already signed an agreement recently with a leading lighting manufacturer that plans to use the technology in its LED fixtures.
Sensity's leading executive told the NYT that the company's looking at video-based security, public safety, parking management, predictive maintenance and more.
Other cities, including Las Vegas and Copenhagen, are testing new street lighting systems to not only save on energy costs but to also do things such as control lighting, play music, issue security alerts, control traffic, monitor carbon dioxide levels, and detect when garbage cans are full.
Are privacy and data security concerns being taken under consideration?
Sensity, to its credit, has acknowledged the concerns of privacy advocates who say that the tendency is to suck up as much big data as possible first and then worry about securing it later.
The company has gone so far as to create a board to help figure out the technology's implications.
The data, in the meantime, is encrypted (though we have no more detail than that) and "supersecure", chief executive Hugh Martin told the NYT.
But it's perhaps best to be skeptical of claims that data is secure, let alone "supersecure".
We just marked the end of an epic year for data breaches, with over 800 million records lost.
It would be wonderful to believe in the claims that data being rolled up by places like this airport are going to be secure and that nobody's going to get at it without a subpoena or written request.
But there's hope, and then there's reality. Eight hundred million lost records. Goodness gracious, that's a lot of not-so-super security.
What do you think? Are you comforted by the idea of more surveillance in airports, or have you had just about enough of the spread of surveillance technology?
Please share your thoughts in the comments section below.
Image of LED light and Newark Airport courtesy of Shutterstock.