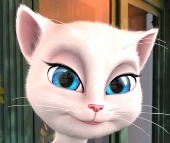 For the last week, the internet – and Facebook in particular – has been positively moist with the foamy, spittle flecks of an outraged, pitchfork wielding mob.
This outpouring of outrage has been so verbose and so sudden that the internet has all but run out of upper case letters.
The mob, like a million, breathless, cyber-age Paul Reveres, are warning as many people as they can.
Speed is of the essence, it seems, and in an effort to move as quickly as possible many have simply had to leave punctuation at home to save weight.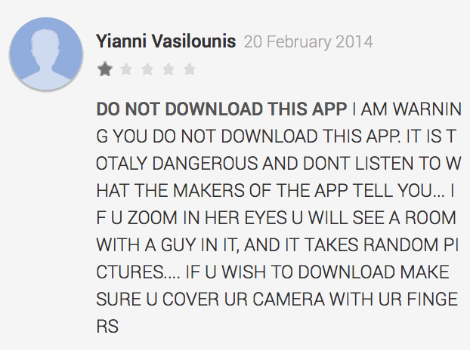 DO NOT DOWNLOAD THIS APP I AM WARNING YOU DO NOT DOWNLOAD THIS APP. IT IS TOTALY DANGEROUS AND DONT LISTEN TO WHAT THE MAKERS OF THE APP TELL YOU... IF U ZOOM IN HER EYES U WILL SEE A ROOM WITH A GUY IN IT, AND IT TAKES RANDOM PICTURES.... IF U WISH TO DOWNLOAD MAKE SURE U COVER UR CAMERA WITH UR FINGERS
The subject of their fury is the eponymous feline star of a smartphone app called Talking Angela. This cat, they scream, is hiding the darkest of secrets.
The limited and mildly flirtatious questions Angela asks through her chat function are not, it's claimed, the result of furby-like artificial intelligence programmed by the app's well established developers OutFit7, but the probing of real-life paedophiles.
And if you need extraordinary proof for such an extraordinary claim it's no problem; you need only cast aside the laws of physics that make apps, smartphones and online reviews possible and look into her eyes because the paedophile is right there in a room. No, really.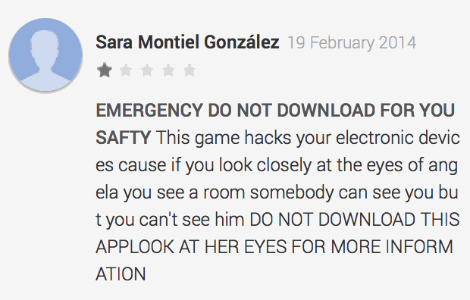 EMERGENCY DO NOT DOWNLOAD FOR YOU SAFTY This game hacks your electronic devices cause if you look closely at the eyes of angela you see a room somebody can see you but you can't see him DO NOT DOWNLOAD THIS APPLOOK AT HER EYES FOR MORE INFORMATION
Rumours of Angela's evil side are not new, but the volume of opprobrium in the last week, like the finale of a Spinal Tap concert, has found its own ridiculous, deafening eleven.
About eight days ago we noticed that our year-old article about the Talking Angela hoax had suddenly become very, very popular indeed.
And it wasn't just us. Google Trends shows that it was happening worldwide; searches for 'Talking Angela' have almost literally gone off the chart.

What on earth is happening?
I decided to take a look at the Talking Angela app, and to read the comments on our site and the Google Play Store to see if there was anything that might explain this tsunami of attention.

Here are four things I suspect helped the hoax spread.
1. Talking Angela has a Child mode
The Talking Angela app has a Child mode that can be switched on and off. The statement sent by OutFit7 to Naked Security describes Child mode as follows:
...users are given the option to play the Talking Angela app in child mode, a function specifically designed to safeguard young players. Within child mode, the chat bot feature is disabled so Angela can respond only to touch and repeat what she hears over the microphone. Child mode can be selected at any point within the app's settings.
The character herself is a talking, animated cat in the Disney mould who is very clearly designed to appeal to young children.
There is no explicit Adult mode so just who this cartoon cat is aimed at when it's not in Child mode is unclear. Whoever they are, they need to be able to type because the app answers to written questions.
I used Talking Angela when it's not in Child mode and (much to the amusement of colleagues sat near me and the confusion and horror of those sat further away) have attempted to engage it with lewd (OK, filthy) conversation without luck.
Some of the questions and answers from Talking Angela are mildly flirtatious. To me they are innocuous and I wouldn't be in the least bit concerned if my children heard them.
However this is a globally available product and OutFit7 are clearly imagining that some parents somewhere will find the conversation unsuitable for their children because their own press statement describes Child mode as a 'safeguard'.
It's light-years away from secret paedophiles hiding in the app but it might be the tiny pebble that caused the first ripple in the pond.
2. It's hard to tell if you're in Child mode
One of the screen shots below shows the app with Child mode on and one shows the app with Child mode off. Can you tell which is which?
The one on the right has Child mode on.
The easiest way that you can tell if you're in Child mode is that there's no chat at the bottom of the screen. The 'Chat with me' box only appears when Child mode is off.
So parents wishing to 'safeguard' their children from this cat's far-from-shocking conversation by allowing them to only use it in Child mode will be hard pressed to say, at a glance, if it's on.
If Child mode is important, then the app is badly in need of an obvious way for a parent to see, at a glance, whether Child mode is on or not.
3. It's impossible to keep children in Child mode
Parents who feel that Child mode is important and want their children to stay in that mode will probably be disappointed.
Two clicks in the same place – the Ü (or smiley face) button and then the toggle that appears next to it – and the training wheels are off.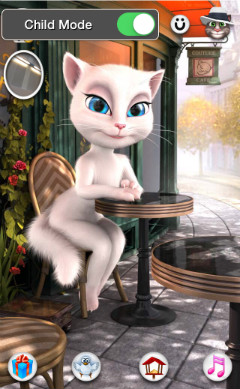 Children won't experience any difficultly disabling Child mode. Some will do it deliberately, some accidentally, and some will just enjoy playing with buttons.
Either way it makes a mockery of the idea that it's a safeguard – I think that if Child mode is important to you, you shouldn't assume that your child has Talking Angela in that mode unless you're using it with them.
All of which leads to an app with a mode that's not harmful to, but isn't for, children, that's stupidly easy for children to exit and that doesn't alert you when it's not on.
4. Context is everything
So we've established that some children who are supposed to be in Child mode probably won't be and that some parents will not like what they hear Talking Angela saying when that happens.
Consider the following sentence said by one person to another:
"You have been a naughty girl and you must be punished!"
If I tell you the two people involved are adults then it becomes a phrase loaded with innuendo.
If I tell you it's a parent talking to a child then it has a very different, literal and unsexual meaning.
Finally, if I tell you that it's an adult talking to the child, and the adult is a paedophile, then it takes on a very sinister tone (my skin's crawling and it's just a sentence written on a web page).
When kids talk about their school or stick their tongues out and tell you how pink they are, it's perfectly innocent. Angela is a cartoon character that's designed for children who says those same things.
However she does say them with a knowing wink and only when she isn't in Child mode. Her context is ever so slightly ambiguous and that leaves a little more room for the listener to decide that it's unsavoury. There is, perhaps, a whiff of the Uncanny Vallley.
Interestingly, the original Facebook warning from a year ago doesn't make any specific accusations about paedophiles peering out from behind Angela's eyes, it just implies, well, that something's not right.
WARNING FOR TO ALL PARENTS WITH CHILDREN THAT HAVE ANY ELECTRONIC DEVICES , EX : IPOD,TABLETS ETC .... THERE IS A SITE CALLED TALKING ANGELA , THIS SITE ASKS KIDS QUESTIONS LIKE : THERE NAMES , WHERE THEY GO TO SCHOOL AND ALSO TAKE PICTURES OF THEIR FACES BY PUSHING A HEART ON THE BOTTOM LEFT CORNER WITHOUT ANY NOTICES . PLEASE CHECK YOUR CHILDREN'S IPODS AND ALL TO MAKE SURE THEY DO NOT HAVE THIS APP !!! PLEASE PASS THIS MESSAGE ON TO YOUR FRIENDS AND FAMILY MEMBERS THAT HAVE KIDS !!!!
All it says is that Talking Angela asks children's names and where they go to school, and takes photos (just like kids do with each other).
Don't spread the hoax
There is nothing wrong with Talking Angela. Don't spread the hoax.
It isn't always easy to resist spreading hoaxes – they spread because on some level they are convincing (emotionally convincing, if not logically).
But we must resist spreading hoaxes because in passing on the false dangers we can end up creating real ones.
Actions have consequences, and in the case of a story like Talking Angela the reputations and livelihoods of real people with real jobs, real lives and real families are at stake.
Naked Security's Paul Ducklin has written an excellent piece outlining three tips to avoid Facebook hoaxes that will help you to steer clear of joining the mob.
To Paul's advice I will add my own rule of thumb: if a person is speaking to you with total certainty about a piece of technology and they CAN'T EVEN LOCATE THEIR OWN CAPS LOCK KEY, take the warning with a pinch of salt and walk away.