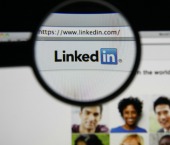 Anna R., a US woman from Columbus, Ohio, says that she was once sexually assaulted in the workplace.
She left her job, she says, hoping to leave the trauma behind.
But then, the stalking started.
It came via email, voicemail – "some threatening, some flirty, day after day", she said.
She could ignore the email and delete the voicemail; she could block Facebook; and she could tweak user privacy settings in Twitter.
But there was one social media site – LinkedIn – where she couldn't block the abuse.
Every day, she was being checked out on the professional networking site. The last straw came when her abuser started researching her connections to see where they were located, as he attempted to track her down.
She writes:
If [my connections] were in a different area in which I worked for him, he would e-mail me to see if I moved and what I was doing. Little things like that started getting me really scared.
According to Anna R.'s account, LinkedIn customer service said that she would only be able to block a member if that member was prohibited from having a LinkedIn account by virtue of a court order – a requirement she (rightfully) found "ludicrous and to the extreme", given how many of LinkedIn's social media brethren had a blocking or report abuse feature.
LinkedIn was, as she charged, an outlier. But now, 10 months after Anna R. started a petition to get LinkedIn to create a blocking feature, LinkedIn has done just that.
The company announced the new member blocking feature last week.
The new feature is both a response to users' requests and because it's "the right thing to do," LinkedIn said.
So any LinkedIn user who's being stalked – or simply harassed by a zealous recruiter, for that matter – can now block the person who's discomforting them.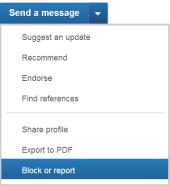 Here's how:
Go to the profile of the person you'd like to block.
After you finish blocking someone, you will disappear from the Who's Viewed Your Profile section of the person you blocked.
Move your cursor over the down arrow next to the button in the top section of the member's profile. Button name may vary.
Select Block or Report next to the member's name.
Click Continue.
On the next screen, click Agree to confirm your action.
This is what will happen:
You won't be able to access each other's profiles on LinkedIn.
You won't be able to message each other on LinkedIn.
If you're connected, you won't be connected anymore.
LinkedIn will remove any endorsements and recommendations from that member.
You won't see each other in your "Who's Viewed Your Profile".
LinkedIn will stop suggesting you to each other in features such as "People You May Know" and "People also Viewed".
As many LinkedIn users have noted, blocking a specific person doesn't mean that he or she can't simply browse a profile anonymously. In fact, setting a profile to view anonymously is what LinkedIn recommends users do before blocking another user.
LinkedIn Head of Trust & Safety Paul Rockwell offered a number of additional settings to tweak in order to protect a profile:
Disconnecting. This provides users with the ability to remove any existing connection to another member in their network.
Customize Your Public Profile. Provides control over what profile content is discoverable by search engines.
Activity Broadcasts. Controls whether others can see profile updates, recommendations made and companies followed.
Photo Visibility. Controls who can see your profile photo.
Some commenters on LinkedIn's announcement point out that urging users to browse anonymously before blocking others seems to be aiding and abetting exactly the kind of stalker that a block feature is meant to deal with.
That bit confuses me, too. I can see how anonymous browsing shields stalking victims from their predators, but doesn't it also shield stalkers' actions from their victims? That side of the coin certainly doesn't seem to present a step in the right direction.
In fact, following user outcry, Twitter itself in December had to back off of a watered-down block feature that would have allowed blocked users to continue to follow their targets, oblivious to the fact that they'd been blocked as they continued to interact with blockers' Tweets, receive their timeline updates, and thereby, critics said, enable blocked users' friends to continue harassment of victims.
What do you think? Is LinkedIn's encouragement to browse anonymously a watered-down approach to blocking?
Please share your thoughts in the comments section below.
Image of LinkedIn courtesy of Shutterstock.