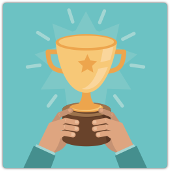 To everyone who voted for us to win in this year's Security Blogger Awards, "Thanks!"
Friend and colleague Chester Wisniewski emailed me, pleased as a peacock, from the awards ceremony in San Francisco…
We won!
This is the fourth award that the Naked Security team has brought home from the RSA conference in four years.
We were voted Most Educational Security Blog in 2011, Best Corporate Security Blog in 2012 and 2013, and in 2014, just hours ago, in fact, The Blog That Best Represents The Security Industry.
In previous years, voting was limited to other security bloggers.
This year, however, voting was open to all, so it is you, our readers, who did it for us – thanks again!
By the way, a huge part of our success is not so much knowing how to write our stories, but knowing what to write about, and why it would be useful to do so.
And for the what and why, we have to say, "Thanks" to all of you yet again.
Your enthusiatic engagement with Naked Security through comments and email is really what made this award possible.
We love hearing your comments and reading your tips, so please keep them coming!
If you haven't had your say on Naked Security before, here's how:
• To comment on any Naked Security article, simply type away in the Leave a Reply box at the bottom of the page.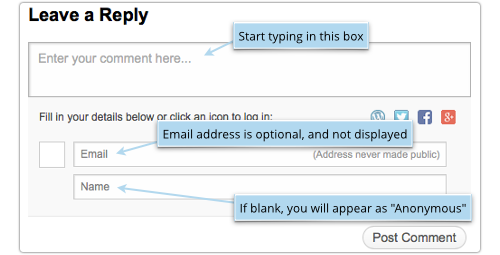 → When you start typing, the text entry box will automatically expand into the dialog shown above. You may comment anonymously if you wish – just leave the "Name" field blank and you will show up as "Anonmyous." You don't need to leave an email address, but if you do it won't be published or added to any mailing lists.
• If you want your comment to refer to something that someone said earlier, click the [Reply] button directly below their comment.
→ Comments left as replies are nested and indented under the remarks they're replying to, helping other readers to follow the discussion thread.
• To comment privately, to make a suggestion, or to ask us a question directly, just email tips@sophos.com.
→ If you are reporting something for us to write about, please let us know if you want us to mention you by name or nickname, in whole or in part. If you don't say, we won't use your name.
You might also like to do the following:
• Subscribe to the Naked Security daily email newsletter.
→ We use the email address you give us only to send your daily summary of Naked Security articles. We don't add you to any other lists or services. You can easily unsubscribe at any time.
• Join us on our Naked Security from Sophos Facebook page.
• Follow Naked Security on Twitter.
• Learn more from our wide selection of Sophos podcasts.
• Keep up with our weekly "serious-but-fun" 60 Second Security videos.

Image of retro-style chap holding aloft victory cup courtesy of Shutterstock.