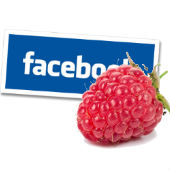 The daughter of a US man took to Facebook to blow a raspberry at her father's employer – the school from which she recently graduated – after he won $80,000 (£47,800) in a settlement over an age discrimination suit.
The post, although only 25 words, was big enough in the "breached confidentiality" department to cost him his settlement.
According to the Miami Herald, Florida's Third District Court of Appeal on Wednesday tossed out the $80,000 discrimination settlement between Gulliver Preparatory School and former headmaster Patrick Snay, ruling that the ex-employee and his daughter breached the terms of a confidential agreement when she went on Facebook to brag about it.
Here's the post of Dana Snay, courtesy of the Miami Herald, meant for the eyes of her 1,200 Facebook friends – many of them Gulliver students:
Mama and Papa Snay won the case against Gulliver. Gulliver is now officially paying for my vacation to Europe this summer. SUCK IT.
The European vacation wasn't for real, reportedly. Dana was joking. But the holes in the concept of Facebook confidentiality were most definitely real, indeed.
The ink was barely dry before the school's attorneys heard of the Bronx cheer. Within four days, Gulliver's attorneys told Snay that they wouldn't be paying his settlement.
Snay won an appeal, but on Wednesday, the court tossed out the decision.
According to the Miami Herald, the case began in 2010, when the school declined to renew Snay's contract after years of employment. Now 69, Snay claimed both age discrimination and retaliation against Dana, who was then a student.
The school settled in November 2011, agreeing to pay $10,000 in back wages, $60,000 to Snay's attorneys, and $80,000 as a settlement.
The agreement was predicated on a confidentiality agreement requiring Snay and his wife to keep the "terms and existence" of the agreement private.
However, Snay told the court that he and his wife had decided that they had to tell their daughter something. After all, he said in depositions, she'd suffered "psychological scars" from issues during her enrollment at the school and was aware that her parents were in mediation with Gulliver attorneys.
Judge Linda Ann Wells, who overturned the decision commented:
Snay violated the agreement by doing exactly what he had promised not to do... His daughter then did precisely what the confidentiality agreement was designed to prevent.
It's yet another reminder of being careful of what we post online.
Unfortunately, there's no privacy setting or tool that can teach young people how to be graceful or circumspect in their postings. That's up to parents, teachers and peers.
It would be worth showing our top 10 online safety tips to the children and young people in your life. (Number 3 might have helped Dana, here).
And if you want to keep track of Naked Security's decorum, of course, as well as all the Facebook news we can handle, you can always join the (hopefully raspberry-free) Naked Security Facebook page.
Image of raspberry courtesy of Shutterstock.