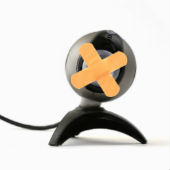 A 30-year-old London man has been found guilty of fiddling with three women's computers so he could spy on them through their webcams.
After a week-long trial, which police said had followed a "complex and protracted investigation that involved detailed examination and evaluation of computer files", Andrew Meldrum was convicted of three counts of unauthorised access to computer material and two counts of voyeurism.
He'll be sentenced on 14 April 2014.
The police may have conducted a complex and protracted investigation, but the webcam shenanigans came to light after being triggered by an investigation conducted by one of Meldrum's victims.
Specifically, one of the victims found fishy software on her computer.
The woman, who was then 21, found an application that enabled the remote accessing of her webcam.
In November 2012, she contacted police.
The woman suspected Meldrum right off the bat, given that he'd recently "helped" her with her computer.
Word got around. The victim told another woman, who was then aged 23, about the tampering.
That woman, who also knew Meldrum, found remote access software on her computer, too, and she also told police.
The second victim gave a heads-up about the investigation to yet another woman who, she knew, was acquainted with Meldrum.
That third victim, aged 28, checked her computer. Gee, what a surprise – there was remote-access software on hers, too.
Meldrum had been spying on this third victim for quite some time, given that the software had likely been on this third woman's computer for around 15 months, police said.
Meldrum's far from the first lecher who's been convicted of drooling behind a tinkered-with webcam.
If you do a search on Naked Security for our coverage of webcams, you'll get an unsavory sampling of incidents involving hacked webcams.
For example, there was the sextortionist who hacked the webcam of Miss Teen USA 2013 to snap bedroom photos; webcam hackers who do a brisk business selling access to hacked webcams ($1 for a female "slave", and $1 for 100 male "slaves", as they're called); or even the inventive creep who used bogus error messages to convince women to bring their hacked webcams into the shower with them.
What's a spied-on person to do?
Keeping security software up to date is one good step.
If you suspect there's something weird about your webcam, it's best to unplug it, or put a bandage or sticky note over its lens, until you get it checked out.
But if you're like me, you're asking yourself this question: if I bring my computer to a computer technician, how do I know that they won't pull a Meldrum?
If you've got thoughts on that issue, please chime in, in the comments below.
At any rate, until we answer the "how do we trust the fixers to fix things without turning our computers into voyeurism tools", I guess I'll be sticking to black tape over my lens.
Images of webcam and plaster courtesy of Shutterstock.