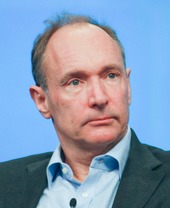 Sir Tim Berners-Lee has called for a 'Magna Carta' for the world wide web to protect its users across the globe.
The creator of the web also believes controls need to be put into place to ensure it remains independent and equally accessible to all.
Sir Tim's comments come on what is the 25th anniversary of his first draft of the first proposal for what would become the world wide web.
If you're pretty sure you remember reading about a 20th anniversary within the last year, well, you'd be right.
Berners-Lee's initial abstract proposal for what would become the web was created on 12 March 1989. It wasn't until April 1993 that CERN, where Berners-Lee was contracting, served the first web page.
His 'Magna Carta' proposal is to form part of an initiative called Web We Want which is calling on people to "stand up for their right to a free, open and truly global internet".
Speaking to the Guardian, Berners-Lee said:
Unless we have an open, neutral internet we can rely on without worrying about what's happening at the back door, we can't have open government, good democracy, good healthcare, connected communities and diversity of culture. It's not naive to think we can have that, but it is naive to think we can just sit back and get it.
Berners-Lee has been an outspoken critic of government surveillance following leaks by ex-US intelligence contractor Edward Snowden, saying that that such activity could undermine the democratic nature of the web.
He told the BBC that the use of an open and free internet in the future is akin to the importance of human rights and made a call for people to protest against surveillance, saying that the internet should be a neutral medium that can be enjoyed without the feeling that "somebody's looking over our shoulder."
Image of Sir Tim Berners-Lee courtesy of drserg / Shutterstock.com.