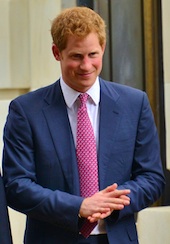 A Facebook user posing as Britain's Prince Harry has conned an Austrian floor fitter out of thousands of euros.
According to a report in the Austrian Kurier newspaper, the fake prince offered the workman a one million pound contract to renovate the parquet floors at Buckingham Palace.
However, the tradesman was told he'd have to transfer a total of €27,500 (£23,000, $38,200) to the royal imposter in order for the deal to go ahead.
The victim sent an initial payment of €2,500 to a Lloyds Bank account. This was followed by a further payment of €22,000 as a 'security deposit' and then a 'final payment' of €3,000.
The latter two payments were made via Western Union, a money transfer service that is notoriously hard to track.
On Friday, having heard nothing from 'Prince Harry' for over two weeks, the workman contacted his local police in the district of Oberwart.
Investigations are continuing but the authorities in the province of Burgenland have reportedly told the floor fitter that the chances of seeing his money again are 'slim'.
This is not the first time that a trickster has used the name of Prince Harry to defraud victims.
In 2010 a fraudster posed as the prince, again on Facebook, and tricked over 20 women into sending money destined for an African orphans charity that had been created in memory of his mother, the late Princess Diana.
According to the Express, victims each sent up to $2,500 to someone using the name Raji Abass Agboola who had the funds deposited into accounts in Nigeria and Benin.
Given the rise in social media-related crime – the Metro reports a three-year 25% increase in crime involving Facebook and a whopping 390% uplift in cases where Twitter has played a role – it's worth paying attention to these tips for avoiding such scams:
Think carefully about who you are talking to – just because someone says they are who they are, doesn't mean they necessarily are.
Don't send money to someone you haven't met – this applies to potential business partners as well as down-on-their-luck 'friends' and potential romantic interests
If you think that you have been duped, report the matter as soon as you can to increase the chances of the perpetrator being caught before he/she cons someone else. If you're in the UK, you can report the crime to Action Fraud, the US the Internet Crime Complaint Center, or search online for how to report online fraud in your country.
Lastly, it's unlikely Prince Harry would personally contact someone to arrange a floor-fitting at Buckingham Palace. If it sounds too good to be true, it probably is.
Image of Prince Harry courtesy of Flickr user Glynn Lowe, licensed under creative commons.