I'm an Android user.
I like to run a lean, clean tablet, with not too many options and third-party apps on top of the core system build.
So my options and apps are purposefully restricted to things like Android's Wi-Fi hotspot, the software to let me at the Google Play Store, plus a handful of utilities.
My utilities of choice are usually Sophos Anti-Virus, Thomas Okken's super-cool HP42s calculator simulator, and Klaus Weidner's sine qua non, Hacker's Keyboard.
Thanks to the Android Debug Bridge (ADB), I keep backups of the latest APKs of the apps I use, so I can reflash and reinstall a useful system in a few minutes, without an internet connection.
Anyway, to cut a long story short, yesterday I thought I'd take a look in the Play Store to see if there had been any updates to Hacker's Keyboard in the last couple of weeks.
There hadn't been an update, but my search must have marked me out as a haxxor type, because…
…Google helpfully suggested some technical books, too:
---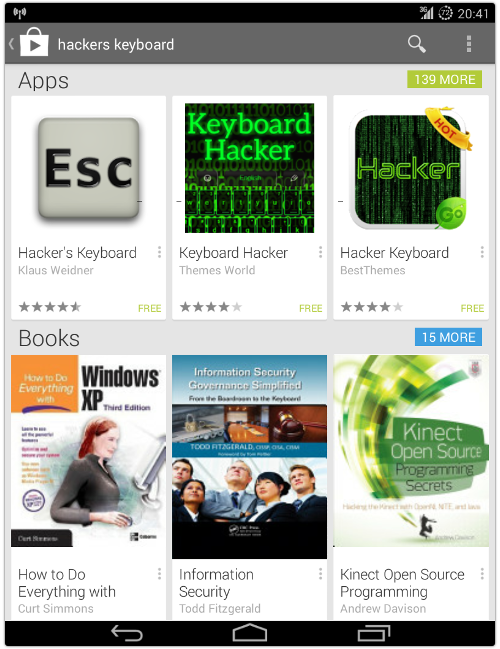 ---
Like the beauty you see above in the lower left corner.
Clicking through quickly revealed an unbeatable bargain, with the price slashed from $24.99 to barely more than half that:
---

---
The Third Edition even covers Service Pack 2, which, Google Play tells me, a little breathlessly:
...provides increased protection against viruses, hackers, and worms.
While it was about it, the Play Store recommended some other, related books it was sure I'd like:
---

---
The First Edition of the Third Edition of How To Do Everything With Windows XP, for just $14.55, only 6% more than the Third Edition itself!
(And will you look at those BlackBerries!)
With advice this current, and this cheap, I may never need to pay $295 again to have an unwanted cold caller from an overseas call centre help me get rid of malware that doesn't exist.
WHERE DO I SIGN?
HOW DO I PAY?
On the serious side, it's a pity to see an online source as influential as Google Play making recommendations like this so close to XP's end-of-service.
If you must continue to use XP in your organisation after security updates end in April 2014, make sure you don't leave your XP computers set up so they can "do everything."
Fence them off in a corner of your network, and limit what software you'll allow them to run.
That will reduce your exposure to danger, as explained in our End of XP podcast:

Oh, and another thing.
With just weeks to run in XP's official lifetime of twelve years, what sort of a discount is $24.99$13.74?