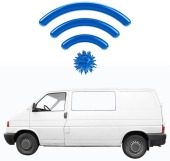 Chinese police have arrested 1,530 spammers who've been driving around, spewing spam at people's phones from mobile, fake base stations.
According to Reuters, China's Ministry of Public Security announced on 25 March 2014 that the arrests are part of a campaign that kicked off in February.
So far, the news agency reports, authorities have seized more than 2,600 fake base stations and identified 3,540 suspected criminal acts.
An army of 1,530 spammers might sound like a lot, but in this – the world's biggest mobile phone market – it's but a drop in the bucket.
Reuters reports that just one of the criminal groups discovered, operating in the northeastern province of Liaoning, on the border with North Korea, is suspected of sending more than 200 million spam messages.
These so-called fake base stations are low-cost, compact SMS servers from which crooks send out text messages spoofed to look like they're coming from any sender's number – including from officials, public services or legitimate banks.
A particular all-in-one SMS server package, consisting of a laptop, a GSM mobile phone, an SMS server box, an antenna, and a USB data cable, sold underground for RMB 45,000 ($7,200, £4,380).
Cybercrooks often throw them into a van or car, The Register reports, then drive through city streets.
The SMS server sends a high-power signal to announce itself as a base station, forcing all nearby mobile phones to disconnect from the legitimate base stations of their network carriers and instead switch to the bogus base station.
With people's phones gripped in this radio-frequency headlock, the crooks are then free to cough up spam as they drive along.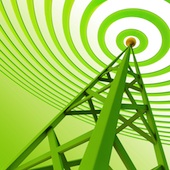 A Beijing News story from November 2013 reported on a typical setup: a van found on 27 October 2013, on World Trade Bridge, that was inundating phones with more than 2,000 spam texts per 20 minutes.
It's driving people nuts, the news outlet says.
According to a report from China's state press agency, Xinhua, over the course of the first half of 2013, the Chinese were bombarded with more than 200 billion spam messages, with the average Chinese person being hit with more than 150.
The Beijing News talked to a taxi driver, Yang Zhao Jian, who said that spam messages are coming throughout the day and into the night, bleating about used-car dealers, nearby apartments for sale, and facelifts, among other things.
Sometimes he "can not wait to throw the phone," he said.
Beyond being annoying, of course, SMS spam can entail significant risk of malware and fraud.
The Beijing News related the story of one woman who received a message telling her to put money into two bank accounts. Because of the text messages, she sank some serious yuan into bank accounts only to find that the messages hadn't come from her banks after all.
What surprises me is that I haven't heard about fake base stations being used in this way in other countries.
Remember: don't click on links sent to you out of the blue, even if they arrive on your mobile phone!
Image of malicious WiFi, van, and WiFi tower courtesy of Shutterstock.