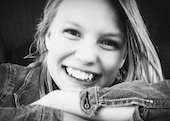 Riley Stratton was in sixth grade (aged 13) when school officials gave her an in-school suspension for posting on Facebook about how she hated a school hall monitor because she was mean.
Following this incident, she was again hauled in front of school officials and forced to give them access to her Facebook and email accounts.
With a police officer in the room, they ransacked Riley's Facebook page and her conversations, looking for an alleged online conversation she had with a boy about sex that had been reported to the school by his mother.
Riley was punished with detention. For what she said on social media. Not on school computers. When she wasn't even in school.
One of Riley's attorneys, Wallace Hilke, helped lead a lawsuit filed by the American Civil Liberties Union (ACLU) against the school on Riley's behalf in 2012.
Hilke told the Star Tribune, a Minnesota news outlet, that considering how innocuous Riley's post was, the school's actions were way out of line:
They punished her for doing exactly what kids have done for 100 years - complaining to her friends about teachers and administrators. She wasn't spreading lies or inciting them to engage in bad behavior, she was just expressing her personal feelings.
In this, the latest clash between schools and students over free speech, social media and privacy, Minnewaska Area Schools, in the US state of Minnesota, has agreed to pay $70,000 in damages and to rewrite its policies to limit how intrusive the school can be when searching a student's emails and social media accounts created off school grounds, the ACLU announced on Tuesday.
That sum will be divided between the Strattons, for damages, and the Minnesota branch of the ACLU, to cover case costs and support future ACLU-MN efforts to protect the civil liberties of Minnesotans, the group said.
As part of the settlement, Minnewaska school policies have been overhauled so as to address electronic devices for the first time, according to the Star Tribune.
The new rules also stipulate that electronic records and passwords created off-campus can only be searched if there's a reasonable suspicion that a search will uncover violations of school rules. Teacher training is also going to be bolstered as part of the settlement.
Riley released this statement about the settlement:
I am so happy that my case is finally over, and that my school changed its rules so what happened to me doesn't happen to other students. It was so embarrassing and hard on me to go through, but I hope that schools all over see what happened and don't punish other students the way I was punished.
On one hand, it's good to hear that this grade-school version of prosecutorial overreach has been corrected.
On the other hand, all sympathy to teachers and school administrators as they wrestle with cyber woes that stem from children and teens being online, including cyberbullying and sextortion.
One example is the case of Yik Yak, a location-based mobile app that's been banned by some schools, given that it's prone to being used not only as a toxic venue for cyberbullying but also for bomb threats that have led to multiple school lockdowns.
Schoolyard meanness has even turned fatal, leading to teen suicide.
Given these issues, it's easy to see how a school would want to jump, hard and fast, to quash students' negative online expressions.
It seems that Riley's school jumped a bit too quickly and came down too hard, stripping her of her privacy when they demanded access to her private online accounts. The school says it had her parents' permission, but her mother denies this.
Getting written permission, from a parent or legal guardian, before demanding access to a student's accounts, seems like a minimal requirement for schools to adopt.
To make sure that your own children and teens think before they post, here are Naked Security's Top 10 Tips from Safer Internet Day.