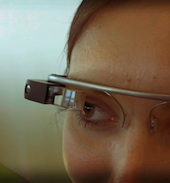 Australia is mulling an overhaul of privacy laws that could make it illegal to record private conversations or activities without consent via Google Glass or similar wearable technologies.
The Australian Law Reform Commission (ALRC) on Monday put out a discussion paper (PDF) that laid out sweeping legislative changes that would update existing privacy laws for the digital age in all things privacy-related, including newly developed surveillance gadgets such as Glass.
Currently, the law in Australia already restricts the use of listening, optical, data and tracking surveillance devices, generally making it a crime to record or monitor private conversations or activities, track a person or monitor information on their computer.
But the laws are all over the place, literally, from state to state and territory to territory, both in terms of the type of devices they regulate as well as when those devices are allowed to be used and by whom.
The ALRC gives the example of Victoria, Queensland and the Northern Territory, which permit recording a private activity without consent of the parties being monitored.
The same bumpiness holds true for employers covertly monitoring employees at work via CCTV cameras, computers, internet and email surveillance: the laws on the books are inconsistent, and what laws there are actually exist only in three jurisdictions.
Likewise, current law doesn't provide general privacy protection when it comes to salacious photography.
Rather, current laws specifically protect a particular group – children – and are restricted to the specific subject matter of photos done in a sexual nature, for specific purposes such as sexual gratification.
One current law, the Privacy Act 1988 (Cth), addresses the actions of government agencies and big business, but it fails to take on a group that overlaps with Google Glass wearers: namely, the world of freelance or amateur photographers.
That law could serve as a springboard from which to address the possible drooling-creep element in the Glasses community, judging by this comment from the ALRC:
The Act does regulate the activities of individuals, agencies and companies which 'disclose personal information about another individual to anyone else for a benefit, service or advantage'.[39] This may provide scope to regulate the actions of photographers who take unauthorised photographs of individuals.
But the ALRC is looking for a whole new bill entirely – a new Commonwealth Act that would cover all manner of serious privacy invasion, whether it's privacy intruded upon by unlawful surveillance or misuse/disclosure of private information.
Australia's been worried about the privacy implications of Glass from the get-go.
The country's privacy commissioner, Timothy Pilgrim, said in April 2013 that he'd asked for a briefing with Google, given his concerns about the gadget's implications for personal privacy.
Of course, it's far from the only country to cast a hairy eyeball toward what privacy officials see as a wearable surveillance device.
In May 2013, the US Congress sent Google a letter listing eight specific privacy areas concerning Glass that legislators wanted to know quite a bit more about.
One month later, privacy officials from six countries and the European Commission likewise threw a slew of Glass questions at Google, said that they wouldn't mind getting their hands on the devices, and were wondering why, exactly, Google hadn't rung most of them up to hash out the privacy issues?
Barbara McDonald, commissioner and a professor of law at the University of Sydney, told The Australian Financial Review that the ALRC's proposal was an attempt at "underpinning the right to feel you can speak freely without someone keeping a record of it without your knowledge".
That premise wasn't birthed with Google's invention, of course: we're familiar with the potential of unlawful surveillance done with mobile phones, for example, she said:
A mobile phone could be used as a surveillance device as well to record a private conversation or record a private activity without consent; it could be set up in a way that's recording, so we already have the concept that wearable items that are in ubiquitous use do have the potential to carry out what would be unauthorised surveillance.
Google, in the meantime, last week fired its latest salvo in the attempt to defuse what it's calling Glass "myths".
(Here's some security- and privacy-centric rebunking of a few of those so-called myths.)
Google Glass's marketing director Ed Sanders told Financial Review Sunday that the public will come to accept the device over time:
Whenever we have a disruptive technology it will promote and provoke debate in the same way there's a social fabric around how you should use your mobile phone.

We don't want to force a consumer product on people without understanding what they're worried about and whether we could look at ways to ­mitigate that from a user's perspective.
I, for one, would actually feel less worried about the privacy implications of Glass were there a solid, consistent legal framework to prevent unauthorized surveillance using not only Glass but all technologies. (I know, I know: good luck getting the FBI, NSA or CIA to ask our permission for surveillance!)
We have the same issues with bumpy, inconsistent privacy laws in the US as in Australia.
One recent example can be found in Boston, Massachusetts, where a man who pointed his mobile phone up women's skirts – it's called "upskirting" – had to be released because there was no law against it on the books.
A law banning secret photos of people's sexual parts was approved in about one day.
That miraculously fast turnaround translates to about a nanosecond in Boston legal time.
Good luck to Australia with speedy overhaul of their own privacy laws.
I imagine that good laws would help the public's acceptance of Glass more than Google's own marketing could ever accomplish.
Image of Google Glass courtesy of Antonio Zugaldia, Wikimedia Commons.