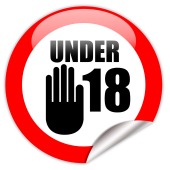 A video-on-demand watchdog in the UK – whose government seems to have its knickers in a permanent twist over children potentially accessing internet porn – is demanding an age-check law for porn sites.
The Authority for Television On Demand (ATVOD) on Friday published what it called "startling" evidence of children's exposure to hardcore pornography on the internet and called for laws that would cut off the cash flow to porn sites that don't bar access to children.
The law already requires that UK on-demand services keep hardcore porn away from minors.
The problem lies with offshore porn sites that are out of the reach of British law, ATVOD says.
To put a leash on the overseas pornographers, the group wants to forbid credit and debit card operators from processing payments from British customers to sites that don't comply with the age verification rules.
ATVOD chair Ruth Evans said in a release that the group isn't advocating censorship, but rather that the government do everything it can to keep hardcore content out of kids' hands:
The law requires that UK on demand services keep such material out of reach of minors and we are committed to ensuring that UK providers of video on demand services comply with the statutory rules. But we have no control over services that come from outside the UK.

The Government needs to act urgently with a range of measures to protect children from this content. Key among them is legislation to make it possible for the UK payments industry to prevent funds flowing from this country to websites which allow children to access hardcore pornography.
Here are some of the findings of ATVOD's recent research, in which it tracked the actions of children and teenagers online in December 2013:
At least 44,000 primary school children accessed an adult website in one month alone – one in 35 of six to 11 year-olds in the UK going online.
One in 16 children under the age of 16—around 200,000—accessed an adult website from a computer.
One in five teenage boys under 18 clicked on porn websites. One adult site that offers free, unrestricted access to thousands of hardcore porn videos attracted 112,000 of the teenagers.
In fact, age-checking is already part of an opt-in, porn-free service proposed in the UK's 2012 Online Safety Bill.
That bill, which got its second reading in December 2013, would require internet providers – both service providers and mobile phone operators – to provide an internet service free of adult content but with the option of accessing such content, subject to age verification that the subject is 18 or older.
Prime Minister David Cameron in July announced new measures to protect children and challenged outfits such as Google, Yahoo, and Microsoft to do their part.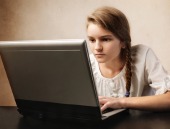 The ISPs reportedly weren't too happy about it, but by November, they said that so-called "family-friendly" filters could be turned on to block children and teens from seeing porn.
Google and Microsoft, for their part, announced that 100,000 unequivocally heinous search terms would now return no results that could find illegal material.
The ISPs and other critics have privately grumbled about the default-on filters, also known as the Great Firewall of Cameron, for three reasons:
It might be illegal under the Regulation of Investigatory Powers, which governs the interception of communications and regulates the powers of public bodies to carry out surveillance and investigation;
No filter is perfect and simply can't replace a parent's monitoring to keep children away from nasty and/or dangerous content; and
Kids are smart enough to find their way around a filter.
According to the BBC, the Labour party has already come out in support of ATVOD's call for snipping the purse strings to porn sites that don't age-check.
But critics such as Sex and Censorship, which describes itself as a free speech campaign group, said ATVOD's suggested law would prove ineffective.
The BBC quoted Sex and Censorship's Jerry Barnett:
It won't make any difference to the sites that give all their videos away for free and sell advertising because they don't need credit card processing.

And some sites are already accepting Bitcoin and other anonymous online payment systems. A clampdown on card payments would just accelerate this trend.
ATVOD wants the law to be changed to protect children before the next general election.
What do I think? I think that internet porn can be dangerous often because it coincides with malware.
But then, you're more likely to get infected by visiting a church website than you are when you surf porn.
As far as I'm concerned, the best, strongest, most reliable filter to protect a minor is an informed, engaged, loving parent or guardian – not whatever new anti-porn law gets drafted, whatever filer is imposed, or whatever content gets flagged more or less arbitrarily by government or industry wonks.
It's like they say: given the suits and the haircuts, are you really willing to trust politicians to be the arbiters of taste?
Image of 'No under 18' and teen on laptop courtesy of Shutterstock.