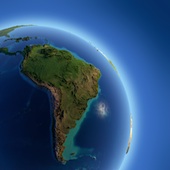 A jointly funded, €135 million project will enable Brazil and the EU to bypass US-owned transatlantic cables, The New York Times reported, with plans to lay a modern high capacity fibre-optic cable from Lisbon, Portugal to Fortaleza, Brazil.
With her typical antipathy towards the US after past NSA email hacks, the President of Brazil, Dilma Rousseff, said during the joint EU – Brazil news statement:
We have to respect privacy, human rights and the sovereignty of nations. We don't want businesses to be spied upon.

The internet is one of the best things man has ever invented. So we agreed for the need to guarantee the neutrality of the network, a democratic area where we can protect freedom of expression.
President of the EU Council, Herman Van Rompuy, also suggested the importance of bypassing the US whilst avoiding any blatant public criticism of NSA activity:
We will continue to enhance data protection and global privacy standards. A new fibre-optic submarine cable, connecting Latin America directly with Europe, would make an important contribution to these efforts.
This reads like an epic effort to sideline the USA from the rest of the Americas.
There is no doubt that the NSA's activities have helped to ensure there is the funding, economic model and political willpower to push this forward.
Other anti-NSA actions includes Rousseff's failed attempt to get local storage requirements included in the "Marco Civil" bill that was approved just recently.
This would have meant that the likes of Google, Amazon and Facebook would only be allowed to store personal details of Brazilian citizens in data centres based within Brazil itself.
Brazil also plans to create their own secure government email infrastructure to prevent spying.
In reality though, Brazil's transatlantic cable plans are unlikely to be driven by the desire to protect the privacy of individuals. It is much more likely to be about developing their digital economy and protecting both government and business confidentiality.
The initial plans for this Telebrás project was actually reported as early as March 2012, well before Snowden's disclosure about NSA activities. And the plans go well beyond just the Portugal-Brazil link: they include another transatlantic connection to Angola as well as connections down the coast to Uruguay, Argentina and up to the USA itself with an estimated budget of over €800 million.
In fact 'i3 Africa' announced their part in an even grander 34,000 kilometer, €1 billion-plus BRICS project during early 2012, with planned landing points in Miami (US), Fortaleza (Brazil), Cape Town (South Africa), Mauritius, Chennai (India), Singapore, Shantou (China) and Vladivostok (Russia).
Specifically, using non-USA cable routing will bypass the NSA's "Upstream" project, where in 2011 the telecom operators on the US side of the transatlantic cables helped PRISM intercept possibly 25 million internet communications.
This sort of activity has been known about since at least 2006, and the news of the NSA facility known as "Room 641A" within an AT&T switching station.
These cable projects will make Brazil the digital hub of the southern continent, with benefits to developing financial centres and increasing prominence to the São Paulo stock exchange.
All this could steal from the USA's market share in South America and elsewhere around the globe.
In this, as in other cases, the NSA appears to be driving business away from the USA.
Image of Brazil on globe courtesy of Shutterstock.