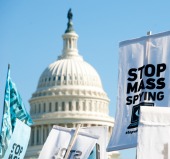 In a letter to Congress released on Tuesday, the US government confirmed what we all knew (or at least suspected) – the National Security Agency has conducted warrantless searches on Americans' private telephone and email conversations.
In a letter to Senator Ron Wyden, who serves on the U.S. Senate Select Committee on Intelligence, James R. Clapper, the US Director of National Intelligence, said that the NSA exploited loopholes in the system to perform searches on US citizens' communications, an activity that usually requires a warrant to be issued.
Clapper said in the letter that the NSA, which has a legal mandate for collecting intelligence on foreign nationals under Section 702 of the Foreign Intelligence and Surveillance Act (FISA), had also collected data from its own citizens due to their association with foreign targets, even if by degrees of separation.
It had been unclear up until now whether the security agency had actually searched the information specifically collected from US residents but Clapper's letter, dated 28 March and in response to Senator Wyden's request for clarification on whether the NSA had indeed conducted warrantless searches on Americans, confirms that it has:
As reflected in the August 2013 Semiannual Assessment of Compliance with Procedures and Guidelines Issued Pursuant to Section 702, which we declassified and released on August 21, 2013, there have been queries, using U.S. person identifiers, of communications lawfully acquired to obtain foreign intelligence by targeting non U.S. persons reasonably believed to be located outside the U.S. pursuant to Section 702 of FISA.
In an emailed statement yesterday Wyden and Senator Mark Udall said that the spying is unacceptable and proves the existence of a loophole that allows the NSA to illegally spy on US citizens, who may have no connections with terrorism or other criminal activity:
It raises serious constitutional questions and poses a real threat to the privacy rights of law-abiding Americans. Senior officials have sometimes suggested that government agencies do not deliberately read Americans' emails, monitor their online activity or listen to their phone calls without a warrant. However, the facts show that those suggestions were misleading.

It is now clear to the public that the list of ongoing intrusive surveillance practices by the NSA includes not only bulk collection of Americans' phone records, but also warrantless searches of the content of Americans' personal communications.
Clapper, who did not divulge just how many Americans were affected by the searches, finished his letter by saying:
These queries were performed pursuant to minimization procedures approved by the FISA court and consistent with the statute and the Fourth Amendment. As you know, when Congress reauthorized Section 702, the proposal to restrict such queries was specifically raised and ultimately not adopted.
This is the first time that a senior US official has publicly admitted that the NSA conducted such searches on US citizens, despite the fact that whistleblower Edward Snowden had already leaked documents confirming that to be the case.
Our American readers will no doubt be interested to see where Clapper's admission leads – after all, they are supposed to be protected from unwarranted searches and seizures by the Fourth Amendment, not to mention the fact that the Obama administration has repeatedly denied that the NSA targets Americans.
In the meantime, Wyden urged President Obama to halt the spying with immediate effect, and without waiting for Congress to pass legislation, telling NBC's Meet the Press:
I believe the president ought to make the transition right away. I believe strongly we ought to ban all dragnet surveillance on law-abiding Americans, not just phone records but also medical records, purchases and others.
Image of US Capitol courtesy of Shutterstock.