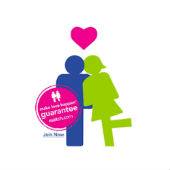 A New Jersey woman lost her retirement savings after she fell for a phony Match.com cutie.
The woman cashed out her IRA, sending the funds to somebody who turned out to be a crook.
He was milking that well-worn scam, the old "I'm working abroad and am in desperate need and only you can help" spiel, she said.
Understandably, she's embarrassed. She didn't want her name used.
But she did want to warn others, she told CBS News.
Talking to the news outlet, 59-year-old said she'd had a 6-month online relationship in 2012 with a man who went by the name Maxwell Yas.
He reportedly used a fake picture and dating profile, claiming he was 60 years old, from New York, and working as a civil engineer in Malaysia.
The crook's mark had her doubts, but she went ahead against her own better judgment, she said:
I've always been a very rational person, and everything told me: 'No, you have to question this. It doesn't sound right'.
The woman said that the conman cooked up elaborate stories, saying he was in financial trouble.
Though they had never met, she wound up wiring $86,000 (£52,000) to him. She wanted to believe he wasn't a rat, she said, hoping that they were, in fact, "developing a relationship".
I wish she'd read Naked Security or any of a slew of articles full of advice on not getting conned before she mistook this skunk for a rose.
In the US, the FBI tries to educate people about these slime lords.
In February, right in time for Valentine's Day, the agency warned about the most current collection of dating extortion scams.
The Match.com guy who finagled this woman's retirement fund fits right into the FBI's lineup of scammers, who often visit dating sites to try to squeeze whatever they can out of lonely, vulnerable people.
Of course, it's not just Match.com where they hunt for prey.
Scammers search for victims on all dating sites, as well as trolling social media sites and chat rooms.
What do these scams look like?
They often claim to be Americans traveling or working abroad, but they often live overseas in reality, the FBI says.
The most common targets are women over 40 who are divorced, widowed, and/or disabled, the agency says, but even if you're not in that bracket, don't let that make you feel safe.
The crooks don't discriminate against any age group or demographic, which means we're all at risk.
The scams often start with a crook contacting a victim online. The scammer appears interested, and he/she might have a profile or a picture they're happy to send via email.
The flirtation can last for weeks or even months, as it did in this Match.com case. Sometimes, the scammer will send flowers or other gifts.
Sooner or later, though, your new honeypot gets into one of a gazillion invented fixes, and that's when you get hit up for money.
Sending money won't stop the scam. More fictional hardships will arise, and only you can help out by sending more money, the con artist makes clear.
The photos of your purported lover were probably lifted from other websites, and the profiles were likely just as fake – carefully crafted, even, to match what the crooks think you're looking for.
Often, people who are getting targeted don't want to be rude. Even if their gut tells them something's not kosher, they'll keep on communicating with the scammer, not wanting to disappoint or embarrass their suitor.
Well, in response to that, I turn it over to Thomas, a commenter on our FBI Valentine's Day warning article who said this a few months ago:
If you believe you're being pulled into a romance scam, stop communication immediately. Don't string them along thinking how embarrassed [or] disappointed they'll be when you call them out. Many of these scams are run out of bullpens staffed by several people trying to make a few bucks in a poor country.

They have no emotional investment in success or failure, they know they're playing a low percentage game. They know they have an X% chance with the first contact they make with you, then an X% chance to reach the next phase, and on and on. They're looking for their cut of a high-stakes windfall, but they're working for the few bucks they get by working their shift. Not only that, but you may be corresponding with several people instead of one, taking turns at using their specialty depending on the victim's response.

So get out of it as fast as you can, chalk it up to experience, and save yourself a lot of misery.
Well said!
But remember, it's not just would-be lovers who are targets in these sorts of scams. Referred to as Advance Fee Fraud, the example in this story is just one of a range of inventive and not-so-inventive 'trust me and send me your money' tricks.
If you or somebody you know thinks they might be getting scammed, you can find a host of support groups by running a search for Romance Scams or Advance Fee Fraud.
If you or somebody you know thinks you've been conned in an online dating scam, in the US, you can file a complaint with the FBI's Internet Crime Complaint Center at www.ic3.gov. If you're in the UK, you can file an online report at the Action Fraud website. Canadians can turn to the Anti-Fraud Centre.
We've done a lot of work in educating people in Australia about these sorts of scams, and have even won an award from the Queensland Police Service for community engagement. If you live in Australia, you can report the crime to SCAMwatch.
Police are investigating the Match.com caper, but the chances of getting back the victim's $86,000 retirement savings are slim.
We're so sorry that she fell for this scam.
Hopefully, there's a silver lining to be found in the idea that other potential victims will read her words and cut off a scammer before they set their hooks.
To wit:
No matter what they say, no matter what kind of tale they tell you, you really have to be brave and say no.