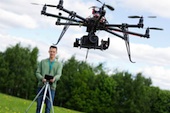 A drone that was supposed to be filming an Australian triathlon fell out of the air and struck a triathlete in the head, sending her to hospital on Sunday.
The athlete, Raija Ogden, was heading into the second lap of the run part of the Endure Batavia Triathlon race, in Western Australia's Mid West.
She was close to the finish line when the remote-controlled, unmanned aerial vehicle (UAV), more commonly known as a drone, dropped on her.
There are conflicting accounts, with the drone's owner saying she was simply startled and fell, and that she wasn't actually hit by the drone.
Ogden insists she was struck, however, and even suggested that a piece of the propeller was pulled from her head by a paramedic.
According to the Australian Broadcasting Corporation, the drone fell about 10 meters (about 33 feet) before hitting Ogden, causing her to fall to the ground.
Ogden was treated at the scene by paramedics, taken to hospital, and received three stitches.
She's in stable condition, according to a statement put out by the Geraldton Triathlon Club.
The drone was operated and owned by a local videography company, New Era Photography and Film, which was covering the event with live footage.
The company's owner, Warren Abrams, said that the circumstances looked suspicious and that hacking might have been involved:
We will be conducting a full investigation of what happened but it looks as though someone has hacked into our system.
The incident's being investigated by the Civil Aviation Safety Authority (CASA).
Abrams told reporters that an initial investigation suggests that someone nearby channel hopped the device, wresting control away from the drone's operator.
Abrams called the drone's faint a deliberate act, saying that it would be difficult to determine who was responsible, as something as common as a mobile phone could be used to perform a channel hop.
Slashdot commenters raised multiple eyebrows at Abrams' claims, particularly given that the videographer had noted that this was the drone's second incident that day.
In spite of the earlier incident, and given that a field test after the first incident failed to reveal any problems, the company chose to deploy it during the race.
CASA spokesman Peter Gibson told the ABC that he was confident sophisticated drones used in commercial operations are unlikely to be controlled or hacked to fall out of the sky:
[But] the simpler ones that you can go down to a store and buy, maybe that is possible given that they're that much more basic.

[It's] very unlikely they're going to be used in commercial operations where they're going to be near people or property.
Of course, it's possible that it could have been hacked, given the success that US college students have had in hijacking drones.
In July 2013, a drone was hijacked by researchers with a $1,000 spoofer.
But at this point, we just don't know whether the drone was experiencing mechanical difficulty, the drone was hacked, the drone flew out of range, or some other operator error was in play.
It will be interesting to see the results of CASA's investigations.
Until then, we're glad you're OK, Ms. Ogden, and hope that this violent end to a race hasn't knocked the wind out of your sails.
Example image of UAV used for filming courtesy of Shutterstock.