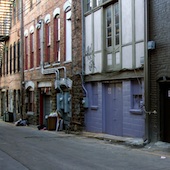 Big data can be used as a tool to discriminate against Americans in areas including housing and employment, according to a soon-to-be-released government review of big-data use.
According to the Associated Press, (AP) the review, due to be presented next week, points to how the oceans of data being collected by public and private firms can be used to discriminate against us by doing things such as mapping where we live.
The review will be presented by White House counselor John Podesta as another piece to come out of a 90-day study of big data commissioned by President Barack Obama in January 2014 as part of the White House's NSA reform efforts.
According to the AP, the review included discussions with civil rights leaders who raised the prospect of employers using data to map where job applicants live.
For example, a job applicant's data might show that she lives far enough away from an employer that the hiring company might assume that she won't stay with the company for long.
The civil rights leaders couldn't point to specific examples of this having happened, the AP reported, but the idea of using big data to prey on the poor is far from new.
A government review of the data-broker industry issued in December 2013 described how our information is amassed as we go about our daily lives, whether we're using social media or purchasing things online or at brick-and-mortar stores.
Companies such as Experian use that data to segment us, drawing maps of clusters that they label so as to target products either at the wealthy or at financially vulnerable populations.
Some of those cluster labels for upper crust consumers: "Established Elite", "Power Couples", "American Royalty", and "Just Sailing Along".
Some of those cluster labels for the not-so-royal: "X-tra Needy", "Burdened By Debt: Singles", "Meager Metro Means", "Ethnic Second-City Strugglers".
According to the December 2013 report, Experian describes one such label – "Hard Times" – like this:
Older, down-scale and ethnically-diverse singles typically concentrated in inner-city apartments.
This is the bottom of the socioeconomic ladder, the poorest lifestyle segment in the nation. Hard Times are older singles in poor city neighborhoods. Nearly three-quarters of the adults are between the ages of 50 and 75; this is an underclass of the working poor and destitute seniors without family support… One-quarter of the households have at least one resident who is retired.
Chris Calabrese, a lawyer with the American Civil Liberties Union, told the AP that the discriminatory use of big data can turn predatory.
For example, banks can target people who post something on social media about losing a job as being likely candidates for high-interest loans, given that such a person might be open to getting some cash and more prone to overlooking the high interest rate as they struggle to get out of a financial squeeze:
You are individually targeted for a loan based on inclusion on one of these lists and get a high interest rate. That is in spite of the fact that if you walked in off the street you might qualify for a lower rate. You never know that you are being targeted individually since you just click on an ad on the side of a website. That is the discrimination.
Data analysis can certainly have more altruistic ends than these, of course.
One example is the New York City Fire Department.
As the Wall Street Journal reported in January, the fire department has taken some 60 different factors correlated with high likelihood of fires – including poverty, building age, electrical issues, presence of elevators, number and location of sprinklers – and built an algorithm that assigns a risk score to each one of the city's 330,000 inspectable buildings.
Likewise, some cities, such as Memphis, Tennessee, are using data mining to implement predictive policing.
Until it was beset by funding skirmishes, Memphis Police's Blue CRUSH system amassed data on every crime reported in the city and then tracked and mapped all crimes over time.
Officers were sent to the areas that stood out when patterns of criminal activity emerged from the data. Over 6 years, the program was credited with reducing murders by 36%, robberies by 36%, and motor vehicle thefts by 55%.
What price do we pay for positive outcomes of data mining such as that?
Privacy. As it is, US cities are are increasingly ignoring privacy and gobbling up data on residents, whether it's by rolling out license plate readers mounted on patrol cars or by using homeland security funds to try to buy a drone.
According to AP, Podesta said that when he presents the new big-data usage review next week, he'll recommend an update to the Electronic Communications and Privacy Act of 1986.
The law now stipulates how the government can access private communications for law enforcement purposes.
The AP quoted Nuala O'Connor, president of the Center for Democracy and Technology:
There are certainly gaps in the law. The technology is outpacing regulatory and legislative change.
Regardless of whether the review leads to changes in the legislation – changes that privacy advocates have long sought – it helps to underscore the fact that apparently innocuous data collected in bulk, including our social media musings and our addresses, can reveal far more than was intended by its original use.
That data, in turn, can be used against us in dismayingly inventive ways.
Image of housing courtesy of Shutterstock.