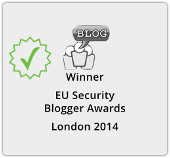 Thanks, everyone!
We asked you to vote for us; you did so; and we won!
So, thanks to your kind support, we're now the proud owners of a brand new prize, the EU Security Blogger Awards Grand Prix Prize for the Best Overall Security Blog.
Several members of the Naked Security team were at the awards ceremony last night, at the Prince of Teck pub in Earls Court, London, just a stone's throw from the Infosec Europe conference venue.
Here's a pair of very pleased-looking Naked Security writers (Chester Wisniewski and Lee Munson) after collecting the trophy: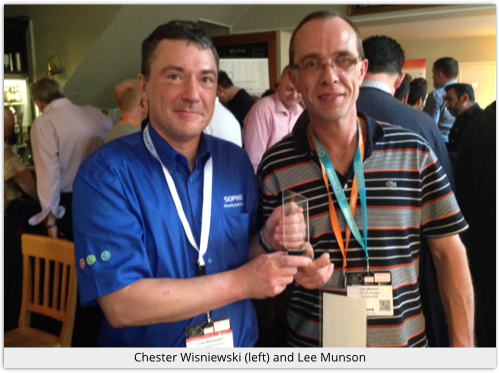 That's not a post-modern champagne glass that Chester's holding onto, by the way, but the award itself:
This latest prize brings our tally of Security Blogger awards in the US and Europe to seven.
At the risk of appearing immodest, here's the list in chronological order: Most Educational Security Blog (RSA 2011), Best Corporate Security Blog (RSA 2012 and RSA 2013), Best Corporate Security Blog and Best Overall Security Blog (Infosec Europe 2013), Blog That Best Represents The Security Industry (RSA 2014) and Best Overall Security Blog (Infosec Europe 2014).
As we've said before, we don't win these awards just by turning out articles about computer security.
A huge part of our success is the sense of community we enjoy with you, our readers.
It's thanks to your engagement with us through comments on Naked Security, and through emails sent to tips@sophos.com, that we've become award-winners.
Whether you agree with us, or disagree (no matter how vehemently!), or spot a mistake, or have an idea for an article, or would like to offer help and advice to other readers, or even simply want to say, "G'day," we're always delighted to hear from you.
Very few computer security problems, especially where on-line safety and privacy meet, have a single, simple solution.
It's by sharing our ideas that we can come up with the most effective strategies for what's often called defence in depth.
Knowing what worked and didn't work for other people helps us all decide which defensive techniques to combine in order to make things cumulatively harder for the crooks.
We look forward to hearing from you!
How to engage with Sophos and Sophos Naked Security
Here are some of the ways you can join us online:
• Subscribe to the Naked Security daily email newsletter.
→ We use the email address you give us only to send your daily summary of Naked Security articles. We don't add you to any other lists or services. You can easily unsubscribe at any time.
• Join us on our Naked Security from Sophos Facebook page.
• Follow Naked Security on Twitter.
• Learn more from our wide selection of Sophos podcasts on SoundCloud.
• Keep up with our weekly "serious-but-fun" 60 Second Security videos on our YouTube channel.
• Join the SophosTalk and SophosFreeTalk communities for our paid and free tools.
Sophos Free Tools
By the way, the right-hand side of the Naked Security website now features clickable links for our free tools, including our free Android anti-virus and security app, our Mac anti-virus, and our full-blown UTM network security gateway.
→ The UTM Home Edition also includes free licences for Sophos Anti-Virus protection on up to 12 Windows computers, managed right from the UTM. If you live in a shared house, or you have children to look out for online, this could be just the product you need.