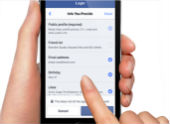 Facebook's the company that's always been about keeping it real. Real identity. Real names. Real people.
Well, now that anonymity is all the rage – just ask Snapchat, Whisper and Secret how much users like to keep their identities or content hush-hush – Facebook's going to serve it up.
To that end, at the F8 developers conference on Wednesday, Facebook unveiled Anonymous Login: a way to use your Facebook account to anonymously log in to other sites and apps.
Mind you, this does not mean you can anonymously log in to Facebook itself.
Facebook will still suck up all the information about you that it always has, plus a running tab of all the sites and services you fancy.
But what about the soon-to-be-famished developers, whom Facebook will be depriving of the data its users once spread throughout the land?
They're just going to have to deal with it, Zuckerberg told Wired's Steven Levy:
Our philosophy is that we care about people first. In the case of login, some of the things that we're doing may add a little bit of friction to the experience by giving people the opportunity to not share certain things with apps.

That will mean that developers will have to adjust. Over time, making it so that people trust the blue button to log in to Facebook will ultimately be good for developers, too.
Facebook cares about people first, Zuckerberg said, which means they should be able to refuse apps' requests for information. Unless, of course, you're talking about the app that is Facebook, in which case it's a continuing data bacchanalia.
Anonymous Login is just one change in the new Facebook Login, which will also let mobile users edit the information they provide, feature a redesign that highlights the audience that apps will post to when they request permission to post back to Facebook, and will let people decide what information they want to share about themselves, including their friend list.
Facebook says it's testing Anonymous Login with a few developers, and it will be opened up to more developers in the coming months.
Undeniably, users like the "blue button" when it comes to fast and easy login to sites and apps, without having to remember separate usernames and passwords.
People don't like it a little. They like it a lot – to the tune of using it over 10 billion times last year, Facebook said in its announcement.
We can expect many, many people to choose to hide their identities behind Facebook, I'm sure.
And expect Facebook to be all the more data-rich because of it.
Is Anonymous Login a good thing, security-wise? We often tell you to be careful of what information you share with apps, be they mobile apps or third-party Facebook apps. So yes, feeding apps less information seems like a good thing.
Of course, you should still be careful about the information you share with Facebook itself.
And of course, you can always stay up to date on privacy leakage and other internet threats by liking the Naked Security page on Facebook.