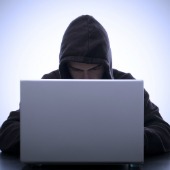 A gang of at least 87 Filipino sexual blackmailers, some of them allegedly connected to the suicide of 17-year-old Daniel Perry, was busted last week.
Police are still hunting them all down, with more arrests likely to follow as they trace the ties between leaders and those they supervised.
Philippine police haven't disclosed the identities or nationalities of all those arrested, given that the investigation is ongoing and some of the syndicate members are still on the run.
But police already know who's holding the power in the ring, Chief Supt. Reuben Theodore Sindac, spokesman for the Philippine National Police (PNP), told the Inquirer on Saturday.
And the three men allegedly behind the blackmail of Perry – whose suicide led to the discovery of the crime ring – have, in fact, been identified.
A police official told the Inquirer that the three were Filipinos, in their 20s, who used a shared Facebook account to extort money from the Scottish teenager.
The official, Senior Supt. Bernard Yang, is with the Philippine National Police Anti-Cybercrime Group (PNP-ACG), which led the raids in Laguna and Taguig.
He named the three allegedly responsible for Perry's death as Vincent Regori Bravo, Jomar Palacio and Gian Tolin.
Perry, from Dunfermline, Fife, in Scotland, killed himself by jumping off a bridge on 15 July 2013.
It was believed that he, like many victims of sexual cyber extortion, had been taken in by a bogus profile.
In Perry's case, it was purportedly of a girl who was around his own age and whom he met on ask.fm.
Philippine National Police Chief Alan Purisima said that the gang concocted provocative, alluring and entirely fictitious social media accounts to entice unwitting victims, including Perry, into performing live cybersex activities that they'd secretly record.
Then, the threats would start. The extortionists demanded between $500 (about £300) and $2,000 (about £1,800) from their victims in exchange for not exposing the images publicly.
According to the BBC, on the day he died, Perry received a message threatening to send the explicit images or video to his friends and family unless he paid money into an account.
The extortionists told him he'd be better off dead if he refused to pay.
Perry replied, begging them not to expose the images, saying he had no money.
Perry killed himself less than an hour after replying.
A multinational operation, codenamed "Strike Back", followed his death and lead to the raids last week on 30 April.
Strike Back included the PNP, Interpol, the US Department of Homeland Security, and police from the UK, Scotland, Hong Kong and Singapore.
The operation included tracking IP addresses and monitoring social media to trace the racket back to where the syndicate members worked.
The typical modus operandi involves a blackmailer concocting a fake profile – Justin Bieber has apparently proved to be regrettably alluring – and contacting victims on a site such as Facebook.
They then gain their targets' trust, siphon off intimate details and often images, and then threaten to share it all unless the victim provides either money or more sexually explicit pictures or videos.
Last year, following the arrest of a 27-year-old man who allegedly coerced hundreds of women into stripping in front of their webcams, the FBI gave out this advice to help fend off these loathsome predators:
Don't take for granted that your computer's security software is a guarantee against intrusions.
Turn off your computer when you aren't using it.
Cover your webcam when not in use.
Don't open attachments without independently verifying that they were sent from someone you know.
Be suspicious. If you receive a message with an attachment from your mother at 3 a.m., the message might not really be from your mother.
If your computer has been compromised and you are receiving extortion threats, don't be afraid to talk to your parents or to call law enforcement.
Daniel Perry's mother has, in fact, beseeched victims to do just that: don't let the extortionists frighten you. Tell authorities, or tell your parents, but by all means, don't let your tormentors succeed in terrorizing you.
She was quoted by the Dunfermline Press soon after Daniel's death:
We're a very close family and I just wished he had come to me and said something.

Even if he came to me and said he needed money we'd have helped him. But we knew nothing about any of it.
Image of hooded man courtesy of Shutterstock.