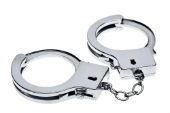 Yoshitomo Imura, a 27-year-old Japanese man, has been arrested for allegedly possessing a collection of guns made with a 3D printer, according to The Japan Times.
Police say that two of the five recovered handguns are capable of firing, though no bullets were discovered at the man's home in Kawasaki, south of Tokyo.
Imura, an employee of Shonan Institute of Technology in Fujisawa, is reported to have made the weapons using a commercial 3D printer he bought online for 60,000 yen (£349/$590) in conjunction with plans he downloaded from file-sharing sites.
The police launched an investigation into Imura earlier this year after he posted video footage online of the guns which he claimed he had made himself.
According to The Japan Times, he also posted the blueprints required to manufacture the guns, along with this comment on Twitter:
The right to bear firearms is a basic human right.
His arrest, on suspicion of illegal weapons possession, came after police searched his home in mid-April and represents the first time that the country's Firearm and Sword Possession Control Law has been applied to guns manufactured with a 3D printer.
Imura was reportedly surprised by his detention, saying:
I produced the guns, but I didn't think it was illegal. I can't complain about the arrest if the police regard them as real guns.
If Imura, who was also found to be in possession of ten toy guns, is found guilty of the crime he is accused of then his possible sentence may depend on how the law is interpreted.
If a 3D gun is deemed to be a fully functional handgun then he could face 1-10 years in jail. On the other hand, if his creation is seen as nothing more than a collection of parts then the possible outcome could be up to 3 years in jail and/or a 500,000 yen fine.
One of the guns Imura is believed to have created is the Liberator, the world's first 3D-printed gun, which prompted a debate about home-made guns in the US last year after a Texas-based group, Defense Distributed, posted the blueprints online.
Those schematics, for a single-shot pistol made almost entirely from 3D-printed polymer plastic, were downloaded over 100,000 times in the first 4 days after they were uploaded.
Concerns over such weapons prompted the US Congress to renew a ban on guns that contain no metal last December but concerns amongst legislators and law enforcement persist.
Weapons made primarily from 3D-printed parts may be undetectable by normal security equipment, prompting fears that they may find their way onto aeroplanes, or similar.
In the UK, police are similarly tetchy about the new technology.
In October 2013 there was widespread media coverage over the discovery of a 'gun making factory' in Manchester after officers found what they originally suspected to be a trigger mechanism and magazine.
The parts turned out to be printer components, but police undoubtedly remain sensitive to the issue of home-made gun construction in a country which has extremely tight gun controls.
Likewise, Japan also has very strict gun control laws and few people outside of the police or military possess guns or have ever come into contact with them.
The fear is that cheap 3D printers, blueprints that are easily obtained online and low per weapon costs (about £16/$26) may be about to change that.
Image of handcuffs courtesy of Shutterstock.