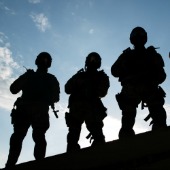 In March 2013, US computer security reporter Brian Krebs was swatted.
Swatting – a term that derives from SWAT (Special Weapons and Tactics) – is the practice of falsely reporting an emergency, as a prank or as revenge against someone, resulting in the dispatch of emergency services. In Krebs's case, that meant armed law enforcement at his door.
Krebs' persecutor had, in fact, spoofed an emergency call to make it appear that it had come from the journalist's own phone.
The result: about half a dozen squad cars, lights flashing, surrounding Krebs's front door, local police leaning over their cars and pointing guns at him.
That day, the police in his town learned what swatting is.
Good thing, because Krebs was again targeted with fraudulent emergency calls on 10 April 2013, and then yet again last week, on 7 May.
On Krebs's side, the now-savvy police simply called to make sure all was OK.
Things were much different on the other end of the fake emergency calls, though.
As Krebs writes, his alleged tormentor du jour, a Twitter user with the handle @ProbablyOnion2, was leaving a long trail documenting his alleged escapades.
For example, his steady Twitter stream included offers to SWAT for money:

Put in your swat requests now.
…along with "nyah-nyah" messages for the FBI:
The investigation is far from over" - FBI Come on baby, if you think you got all the answers, I'm sitting here, waiting.
…and taunting messages to Krebs, asking him how his door was: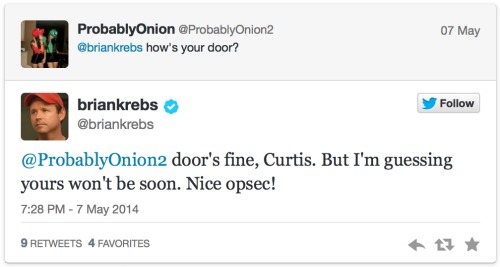 @ProbablyOnion2: @briankrebs how's your door?
@briankrebs: @ProbablyOnion2 door's fine, Curtis. But I'm guessing yours won't be soon. Nice opsec!
…to which Krebs replied with a reference to @ProbablyOnion's "nice opsec," given that @ProbablyOnion's real identity had apparently just been identified in a document leaked onto Pastebin (which Krebs reposted).
Neither the Ottawa Police Service nor the FBI have yet named the underaged male – a 16-year-old from Ottawa – whom they arrested on Thursday.
Canadian police arrested the boy, a suspect they've linked to at least 30 swatting attacks against schools in North America which led to lockdowns or evacuations.
Some of the fake emergency calls involved bomb threats, hostage-taking, or the threat of an active shooter.
The teenager has been charged with 60 criminal offenses, including public mischief, mischief to property, uttering death threats, and conveying false info with intent to alarm.
As Krebs notes, the FBI estimates that each swatting incident costs law enforcement, on average, about $10,000.
But it's not the money that worries them the most. Rather, it's the possibility that one day, a swatting incident could turn deadly.
Kevin Kolbye, the assistant special agent in charge of the FBI's Dallas office, which headed up the first federal swatting case in 2007, described for ABC News how a dangerous level of adrenalin flows in these situations:
[SWAT officers] are responding to a hostage or a possible homicide situation. They are very aware that they are going into a very dangerous situation. They are in a heightened state, the safety's off and their finger is close to the trigger.
Swatting is typically done by kids who think it's fun.
It's unfortunate that this type of young person has been given access to a computer – a device that, when used in this fashion, is, almost literally, like letting a child play with a loaded gun.
Image of SWAT team courtesy of Shutterstock.