Not for the first time, a crypto currency site has confirmed the disappearance of virtual coins just hours after mysteriously going offline.
Doge Vault issued a statement confirming that it was hacked three days ago: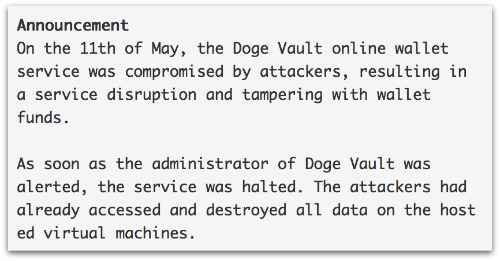 On the 11th of May, the Doge Vault online wallet service was compromised by attackers, resulting in a service disruption and tampering with wallet funds.

As soon as the administrator of Doge Vault was alerted, the service was halted. The attackers had already accessed and destroyed all data on the hosted virtual machines.
The administrator is currently assessing the attack and miners and other accumulators of Dogecoins will be hoping that the site's backup strategy has been sufficient to protect the value of their wallets:
We are currently in the process of identifying the extent of the attack and potential impact on user's funds. This involves salvaging existing wallet data from an off-site backup. We will also closely be investigating potential attack vectors, and determining the security breach which enabled the attackers to compromise the service.
Here's hoping the loss is small fry in comparison to that experienced when Mt Gox, once the biggest Bitcoin exchange, went belly up earlier this year. The exchange filed for bankruptcy in Japan after losing up to 850,000 Bitcoins valued at $500m (£300m) following a string of alleged cyber attacks.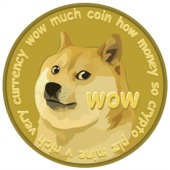 Over the last two years many other smaller virtual currency exchanges, such as Bitfloor and Bitcoinica, have allegedly experienced thefts and other small exchanges have disappeared, along with the cash, after claiming they had been hacked.
Considering how traditional and long-established businesses such as Target and Neiman Marcus have fallen prey to high-profile breaches lately, it is hardly surprising that unregulated currencies such as Dogecoin and Bitcoin are also attracting unwanted interest.
The US Securities and Exchange Commission's (SEC) Office of Investor Education and Advocacy recently issued an alert to raise awareness among investors of the potential risks of investments involving Bitcoin and other forms of virtual currency:
If fraud or theft results in you or your investment losing bitcoins, you may have limited recovery options. Third-party wallet services, payment processors and Bitcoin exchanges that play important roles in the use of bitcoins may be unregulated or operating unlawfully.
The agency also helpfully points out that virtual currencies are not legal tender, are hard to track and may be difficult to seize back, especially where encryption keys are held overseas.
The goings-on at Doge Vault should serve as a reminder to investors, miners and speculators alike to stop and consider the risks inherent in currencies that do not have the backing of a strong legal or regulatory framework.
And, if you use Doge Vault, the advice from the site is to not transfer any funds to your wallet until the investigations have been completed – a further statement detailing the site's findings and plan of action is expected within the next 24-48 hours.