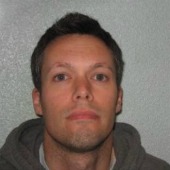 On Facebook, he was a wealthy 18-year-old prep school leaver called Tim Stone who listed "exercise, girls and naughtiness" as interests and who had almost 800 Facebook friends – all of them girls under 18.
In reality, he's what police called "every parent's nightmare": a man who groomed hundreds of girls into sexual acts that he captured via Skype chats and webcam and who then threatened to tell their parents if they didn't comply with his commands.
Tim Stone was the bogus persona created by 34-year-old Timothy Storey of Peckham, South East London, in the UK.
On Monday, he pleaded guilty to eight counts of inciting children to engage in sexual activity, as well as two counts of making indecent images of children, Scotland Yard said.
Despite being convicted, he's walking free, sentenced only to a three-year sex offenders programme in spite of having sent hundreds of messages to girls as young as 12 on Facebook, sending them pictures of his genitals, and asking them to send naked images in return.
He might not be off the hook entirely just yet, however.
The lack of prison time for Storey was condemned as "woefully inadequate" by Enfield Southgate MP David Burrowes, who said he had referred the case to Attorney General Dominic Grieve.
The Express & Star quotes Burrowes:
I am concerned not just about this individual sentence but the wider implications and the wrong precedent that it sets when dealing with potential predators committing serious offences online.

This sentence is out of touch with the reality of the increasing danger and threat which is actually online.
A spokesman for the Attorney General's office said the Attorney General examines such cases to consider whether sentencing was unduly lenient.
If he judges that it was, he can then send a case on to the Court of Appeal.
On his fake Facebook profile, Storey claimed that he left boarding school in 2011, according to the Daily Mail.
On the "Tim Stone" profile, Storey put up a photo of himself when he was younger.
He's been lurking behind that smiling, youthful facade for quite some time.
Police were first tipped off about the child predator last year when a 14-year-old girl told officers that a Tim Stone had sent her sexual images via Facebook two years earlier and had asked for naked images in return.
Police also found another victim, a 13-year-old girl, whom Storey encouraged to set up a Skype account through which he could capture footage of her stripping and showing off intimate parts of her body.
The girl told police that she was frightened, believing that Storey knew where she lived and would tell her parents.
The girl confided in a 13-year-old friend who told Storey to back off. Storey, however, responded by victimising both this girl and another friend.
Police raided Storey's home in Peckham, finding more than 3,000 saved pages of Skype chat that helped them identify further victims.
They also found 72 lewd images of children on a laptop and on Storey's mobile phone.
Detective Inspector Neal Burton, who investigated the case, said people like Storey are the epitome of what parents fear could happen to their children.
The Express & Star quotes him:
Storey is every parent's nightmare, exploiting and abusing children over the internet. The victims showed much courage in coming forward to report his activities and helping to bring him to justice.

He is a serial sex offender who I believe may have abused other victims who have not yet come forward and spoken to the police or confided in anyone else.
Burton reassured anyone who wants to come forward with information about any abuse by Storey that they'll be treated with the "utmost sensitivity" by specially trained detectives.
To paraphrase the Daily Mail, both parents and children – hell, everybody, for that matter – should bear in mind that social networking and webcams open the door to the bedrooms of people.
Storey is the type of predator who can then walk through.
To protect ourselves and our children, it's imperative that we understand how to stay safe on Facebook and elsewhere online.
To that end, here are 10 tips to help keep you safe.
You can also keep up to date on the latest internet threats by liking the Naked Security page on Facebook.