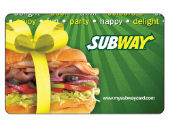 Shahin Abdollahi, former Subway franchise owner and a man accused of selling ready-to-hack point-of-sale (PoS) systems, pleaded guilty on Wednesday to running a gift card scheme that involved tampering with several other Subway stores' computerized cash registers.
A 2013 indictment alleged that Abdollahi, 46, and his partner, Jeffrey Thomas Wilkinson, 35, both from California, carried out a fast-food crime spree by:
Hacking into at least 13 Subway PoS systems.
Fraudulently plumping up Subway gift cards by at least $40,000 in value.
Using some of the artificially inflated gift card balances to make purchases at Subway restaurants.
Selling other fraudulent cards on eBay and Craigslist.
The duo ran a number of Subway franchises in Southern California between 2005 and 2008.
During that time, they apparently learned quite a bit about PoS systems, so they quit selling sandwiches to instead start a business called "POS Doctor" to sell and install the systems into other Subway restaurants.
Those PoS systems weren't your ordinary, run-of-the-mill systems, mind you. They were rigged with a preconfigured, remote-access toolkit called LogMeIn that allowed the crooks to connect to the PoS systems after hours.
That's how they managed to regularly add fraudulent credit onto the Subway gift cards in at least 13 Subway outlets around the US.
Abdollahi pleaded guilty in US District Court for the District of Massachusetts to one count of conspiracy to commit computer intrusion and wire fraud and one count of wire fraud, according to the Department of Justice.
Abdollahi's sentencing is scheduled for 6 August 2014. His partner, Wilkinson, already pleaded guilty back in February and is scheduled for sentencing on 28 May.