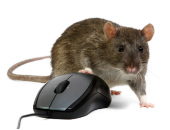 Over 100 people have been arrested as part of a global operation against a popular Remote Access Trojan (RAT) known as Blackshades.
According to officials who spoke to Time Magazine, law enforcement agencies swooped on Blackshades users in Europe, Asia and the US.
Blackshades, which can be used for legitimate purposes such as accessing a work machine from home, is better known for the shady things that hackers have used it for including keystroke logging and the taking over of webcams.
A feature set that includes drive-by attacks and Java exploits also mean that it can be used for carding and identity related crimes.
Available for around $50-100, Blackshades was primarily available through a website called bshades.eu that was taken over by the FBI earlier this month.
The global enforcement action was led by the FBI, possibly as a first step in making good on promises recently made by Robert Anderson Jr.
The newly appointed assistant director of cyber enforcement at the Bureau last week told the Reuters Cybersecurity Summit in Washington:
There is a philosophy change. If you are going to attack Americans, we are going to hold you accountable. If we can reach out and touch you, we are going to reach out and touch you.
The comments were made as Anderson highlighted how the FBI intends to adopt a far more aggressive stance towards cyber crime.
Over 100 people were arrested across the UK, Netherlands, Belgium, Finland, Austria, Estonia, Denmark, Canada, Chile, Croatia and Italy.
The FBI has held an interest in Blackshades for some time now.
One of the co-creators of the RAT, Michael Hogue, was arrested almost a year ago following a two year investigation which culminated in the FBI pitching a fraud honeypot on HackForums to catch carders.
Hogue, known online as xVisceral, has since pleaded guilty and awaits sentencing.
One famous case of Blackshades use was that of Jared James Abrahams, 20, the sextortionist who preyed on around 150 women including Miss Teen USA, Cassidy Wolf.
When police searched his machine they found messages relating to the use of Blackshades, as well as Darkcomet – another RAT.
He pleaded guilty and was sentenced to 18 months in prison earlier this year.
Image of rat courtesy of Shutterstock.