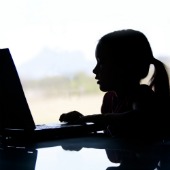 Two UK men have been found guilty of grooming girls via Facebook, enticing them into meetings at hotels, cars and alleyways where they then raped and sexually abused victims as young as 13.
According to the BBC, Yasir Ali, 28, and Daaim Ashraf, 19, from Peterborough, Cambridgeshire, were found guilty after a trial at Cambridge Crown Court.
Ali was convicted of 15 charges, including four rapes, seven trafficking offences, possession of two lewd images, having sexual activity with a child and intimidation. He was cleared of one charge of rape.
Ashraf was found guilty of nine charges, including five trafficking offences, a sexual assault, sexual activity with a child, sexual activity in the presence of a child and intimidation.
A third defendant, James Daly, 25, also of Peterborough, was cleared of one charge of rape.
Earlier in the month, two other Peterborough men were cleared of charges that they had raped and sexually abused eight local girls between the ages of 13 and 16.
Unfortunately, Peterborough has had a recent history with child abuse, rape and prostitution. Five men and youths were jailed on such charges in February.
The two men who were convicted most recently used Facebook and texting to groom vulnerable girls, Det Supt Gary Ridgway, from Cambridgeshire Police, told the BBC:
The girls were targeted due to their vulnerability and groomed via social media. They were made to feel special.
During the trial, which started in March, Prosecutor Patricia Lynch said that the girls were picked up, plied with alcohol and used as "sex objects".
Six of the victims were abused at a Peterborough hotel in January and February 2013. One victim was filmed on a mobile phone.
Police said that two of the victims were also raped in cars at Ferry Meadows in 2008 and 2010, while another girl was raped in an alleyway in Stamford, according to the BBC.
This is only the latest in a long list of child predators who use Facebook and other social media as an easy way to get close to gullible people.
Online, paedophiles flatter their targets, lie about their ages and/or identities, pretend to be young and/or wealthy and/or celebrities, gain children's trust, and then abuse them by cajoling them into taking lewd photos of themselves, creating Skype accounts and then talking them into stripping, sextorting them by threatening to tell parents or share images publicly, or even, as in this case, meeting the predators in real life.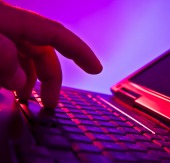 Just last week, one such predator pleaded guilty to eight counts of inciting children to engage in sexual activity, as well as two counts of making indecent images of children, yet he walked free, escaping jail and sentenced instead only to three years of rehab.
We must understand and teach children how to spot online predators. That means understanding how they get to children (and us) online and how they groom victims with flattery and lies.
To stay safe on Facebook and other places online, here are 10 tips to keep you and your family safe.
You can also keep up to date on the latest internet threats by liking the Naked Security page on Facebook.
Our hearts are with the victims of these criminals and the victims' families. May they receive the best possible care as they recover.
Image of girl and hand on keyboard courtesy of Shutterstock.