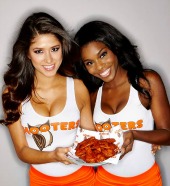 "We were hacked!" said Hooters, the emporium of beer, buxom babes and unlimited $10.99 chicken, after somebody posted a rape joke onto its Facebook page on Saturday.
The 'joke' involved a photo of a girl, scantily clad in hotpants and pointing at her nether regions.
The caption underneath read:
EXHIBIT A

The proof that she was asking for it your Honour
The restaurant chain, which has over 430 US locations, says the offensive post was the work of evil hackers who grabbed hold of its Facebook page and posted the offensive material.
Hooters posted a message on Saturday at 8pm after taking down the post: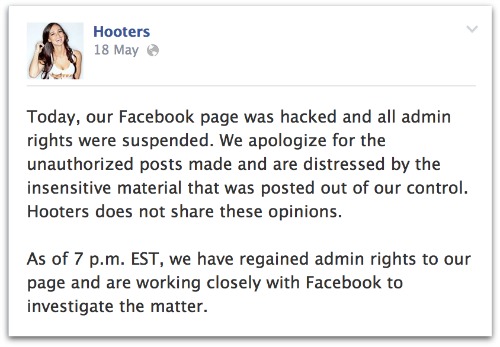 Today, our Facebook page was hacked and all admin rights were suspended. We apologize for the unauthorized posts made and are distressed by the insensitive material that was posted out of our control. Hooters does not share these opinions.

As of 7 p.m. EST, we have regained admin rights to our page and are working closely with Facebook to investigate the matter.
So, hackers were the culprits and most definitely not anybody like, say, a freshly fired intern.
Commenters don't seem to buy that. Stephanie Savas wrote on the Facebook post:
I suppose it's easy these days to say that someone hacked your page, as no one can prove that isn't the truth, however, why on earth would said "hacker" post pictures and articles that are relevant to the overall 'theme' at Hooters? ... I can't be the only one that isn't buying the excuse. I think whoever runs this page just has very bad judgement and you're trying to cover as best as you can.
Of course, none of us really know who posted it.
I contacted Facebook to ascertain if it had indeed worked with Hooters over its claimed loss of administrative control, but I hadn't heard back by the time this posted.
I'll update the story if a spokesperson does get back to me.