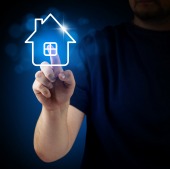 Apple already sells a slew of connected-home gadgets in its stores, from Nest smart thermostats to the Philips Hue – a wirelessly-controllable light bulb.
But rumor has it that the company's poised to jump into the Internet of Things (IoT) fray big-time, with a new software platform that would turn an iPhone into a remote-control platform for lighting systems, home security, kitchen gadgets and more.
The Financial Times, relying on input from people who, it says, are familiar with the matter, reports that Apple plans to launch this "big play" at its Worldwide Developer Conference on 2 June in San Francisco.
If it does – mind you, as the FT notes, Apple is known for changing its mind about WWDC goings-on at the last minute – it will be tangling with Google and Samsung, both of which have already staked claims in the IoT landscape, separately and together.
In April, Samsung launched its "Smart Home" service, which allows users to control Samsung appliances via an Android app.
Google, for its part, in January plunked down $3.2 billion for Nest, maker of fancy, internet-enabled smoke alarms and thermostats.
Then, last week, an SEC filing Google had made in December came to light.
In the filing, Google laid out its plans to potentially stick advertising onto internet-enabled car dashboards, refrigerators, watches, and glasses (read: Google Glass and ads-beamed-directly-to-eyeballs).
Why wouldn't Apple want some of that tasty IoT pie?
The FT points to a patent Apple filed last November that covers remote wireless control – via devices including mobile phones and tablets – of lighting systems, security systems, garage-door openers, music controllers, climate controllers, or kitchen appliances.
Beyond the very real possibility of having Google and its ilk saturation-market us via formerly/blissfully stupid appliances, the IoT of course presents a new world of security risk.
As Naked Security's John Hawes noted recently, with the advent of the IoT comes the prospect of being at risk not only of attackers snooping on the data passing between us, the cloud-based service broker who handles it, and our devices. As well, we're at risk of attackers taking over those data channels and hijacking the devices themselves.
Beyond those risks, the data flowing from these devices is potentially going to be ever more intimately, intrusively concerned with our private selves, from when we're at home, to the hours we're asleep, to what brand of orange juice we prefer.
Apple is reportedly quite sensitive to the privacy piece of this IoT puzzle.
One person who spoke to the FT said that Apple plans to use a scheme similar to its MFi Program (formerly "Made for iPhone/iPod/iPad") developers' licensing program for third-party hardware, but it might tweak that program to provide additional checks and assurances that certified products aren't vulnerable to hackers.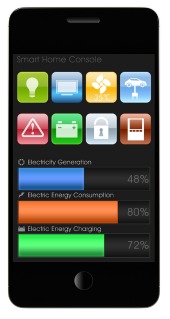 As far as privacy protection goes, Apple will probably emphasize whatever privacy protections it's built into its smart home system, another source told the FT.
In fact, Apple considers its approach to privacy to be a competitive edge over Google, the source said.
As it is, Apple gets most of its money from hardware. Google gets nearly all of its money from advertising, which involves squeezing our personal data for marketing juice.
(Check out Ed Bott's nice pie charts for the revenue visuals.)
If Apple does enter the IoT market in this whole-hog manner, it could mean that the market won't be dominated only by Google, a company that profits off our personal data. Apple will also be in the mix, and it's not that personal-data-fueled.
Will that mean that we can then get smart appliances that don't advertise at us?
That sounds nice.
But it still wouldn't do anything to stem the tide of personal data that the IoT is gearing up to gush.
There's still going to be a whole heck of a lot more data in play, and that means there's going to be a whole heck of a lot more risk.
Let's hope that if Apple does launch its IoT platform next week, it will have plenty to say about how it's going to secure it all.
Image of smart home and smart home app courtesy of Shutterstock.