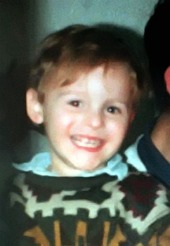 UK police have arrested a 62-year-old man in connection with tweets purportedly coming from the ghost of murdered toddler James Bulger.
James Bulger was 2 years old in 1993 when he wandered away from his mother while she was at a butcher's shop.
He was abducted, tortured and murdered by two 10-year-old boys who became the youngest convicted murderers in modern English history.
The Twitter account, @BulgersGhost, was taken out under the name of "James Bulger's Ghost". It is now suspended.
While the account was still active, the Twitter troll behind it posted sick jokes referencing "Baby P."
One message:
While it cannot be argued that my physical existence is somewhat dead, my spirit is pretty much alive.
Another message referenced a children's musical cartoon with a remark about dancing on train tracks. Bulger's murderers put his body on a train track so that it would appear that he had been run over.
According to The Mirror, the profile also showed a picture of the murdered child and an image of his gravestone.
James's mother, Denise Fergus, was scheduled to meet with Twitter in March to discuss the fake account, which also included messages about sexual abuse and a death threat toward a 2-day-old baby, in addition to messages that targeted Denise and the charity she set up in memory of James.
I don't want to scald your brain with this filth, but if you want to see for yourself, Twitter user DJ has captured some of the offensive messages, which are NSFW, here.
The offensive tweets are contrary to the Malicious Communications Act 1993, police said in a statement.
The 62-year-old was taken into custody at an address in Bexhill, Sussex, after which he was questioned and bailed until 28 August as police continue their investigation.