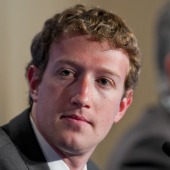 Iran banned Facebook's WhatsApp earlier this month.
The reason? WhatsApp has been bought by Facebook, which of course is owned by CEO Mark Zuckerberg – an "American Zionist", Abdolsamad Khorramabadi, head of the country's Committee on Internet Crimes, reportedly explained.
Now, a conservative Iranian court has not only opened cases against Facebook's WhatsApp and Instagram; it's also summoned that "American Zionist" himself to answer complaints of privacy violation.
According to Reuters, the partially state-funded Iranian Student News Agency (ISNA) reports that the court, which is located in the southern province of Fars, opened cases against the two Facebook services after citizens complained that their privacy had been breached.
ISNA quoted Ruhollah Momen-Nasab, an Iranian internet official, on the matter:
According to the court's ruling, the Zionist director of the company of Facebook, or his official attorney must appear in court to defend himself and pay for possible losses.
Unfortunately, political tensions between the US and Iran, on top of the shadow of anti-Semitism, will of course draw attention from the fact that Iranian citizens potentially have legitimate complaints about WhatsApp and Instagram.
In the US, such legitimate concerns over privacy have led the Federal Trade Commission (FTC) to wag a finger at Facebook, warning it to get users' permission before it changes data collection policies post-mega-acquisition.
Facebook hadn't responded to inquiries about the matter by the time this article posted, but Reuters suggests that, not surprisingly, Zuckerberg likely won't go.
As it is, the US makes it tough to get a visa, and the State Department offers this warning in its travel advisory:
US citizens may be subject to harassment or arrest while traveling or residing in Iran.

If you'd like to stay up to date on all the latest Facebook, privacy and security-related news, please like our Naked Security page.
Image of Mark Zuckerberg courtesy of Frederic Legrand / Shutterstock.com.