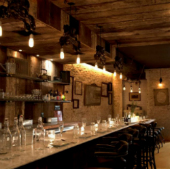 Remember when that Seattle eatery told a Google Glass wearer where he could stick his spectacles?
Some Glass users are fighting back against establishments that have the *ahem* audacity to request privacy for their patrons, and negative reviews are their weapons of choice – even if they've never stepped foot in the place.
The war kicked off in April, when Glass wearer Katy Kasmai was asked to remove her headgear while at a New York City restaurant called Feast.
Instead of taking off her computerized glasses, she left. She didn't stop at that, though.
Rather than quietly respecting that other diners have the right to enjoy a meal without possibly being recorded, she posted a one-star review of the restaurant, with this short appraisal:
Got denied service on a Sunday afternoon for wearing Google Glass.
Then, she posted this message to her Google+ page, where she has over 3,300 followers:
For the first time ever this place, Feast, in #NYC just asked that I remove +Google Glass because customers have complained of privacy concerns in the past. Never has happened to me before in the one year I've had Glass. I left.
An epidemic of one-star reviews soon followed, bringing the restaurant's overall rating down, at its lowest, to a saggy 2.4, according to CNet.
When Feast looked into those bad reviews, it found that none of the abysmal ratings had anything to do with the restaurant's food or its service.
Rather, all the one-star reviews were about the Glass ban, all coming from people who had commented on Kasmai's Google+ post.
Some of the negative reviews:
Not tech friendly. Luddites can't serve good food. Do not waste your money there.
Troglodytes with poor attitudes.
Ignorant bigots and hateful. Perhaps being illegally discriminate too. The food is irrelevant as the service is less than poor.
Ouch. Bad reviews, indeed – the type that "can really hurt" a restaurant, the manager of Feast told the East Village blog EV Grieve:
When the first thing that comes up when you search Feast in Google is a 3.1, it can really hurt a restaurant like us. Then you have 13 people, which is about half the total reviews, who have never been to our restaurant let alone live in NYC, leave you one-star reviews ... it's malicious and technically a violation of Google's own terms for leaving reviews. Again I can understand her leaving the one-star based on her experience, but 12 others with no experience on who we are or what we do is unfair.
Since then, Feast has been clicked-up like mad on Google+ by reviewers who've actually eaten there, many of whom are quite pleased to have their privacy rights protected.
A sample of the five-star posts that have flooded in over the past week, sending Feast's rating up to 4.6 stars as of Thursday:
Great place that really embraces the spirit of our constitution. I enjoy the fact that they express a practical knowledge of the privacy concerns of our founding fathers and the freedoms and liberties for all, not just a select (self appointed elite?!) few.
My husband and I ate at Feast last summer and had a blast -- it was the best meal I've ever had in my life! Unfortunately I forgot to leave a review then, but since I heard about the Glass-holes immorally leaving bad reviews without actually eating here, I had to speak up. I enjoy the latest technology, but these over-entitled tech-heads need to think about the privacy and enjoyment of the other guests at the restaurant and learn a little etiquette. Take it off, be present, and enjoy the amazing food, lively atmosphere, and wonderful staff.
Awesome restaurant, kindly asked if I could remove my Google Glass because others were feeling uncomfortable, luckily Im not the kind of entitled douche to refuse that or get butthurt. Had a great meal.
After much chest thumping on both sides of the Glass debate, Feast and Kasmai have come to a truce: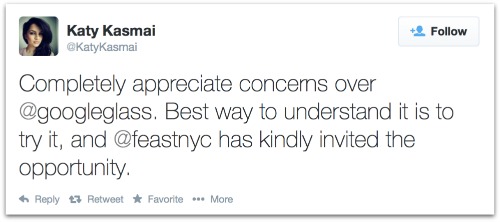 Completely appreciate concerns over @googleglass. Best way to understand it is to try it, and @feastnyc has kindly invited the opportunity.
She posted on her Google+ page that she never asked anyone to post fake reviews, that it's "not ok to do so" and people should reconsider if they plan to do it.
But while she didn't ask for fake reviews, she probably should have known that the linguini would hit the fan once she posted her own bad review, based, as it was, solely on Glass policy.
Kasmai is, in fact, the organizer of a Google Glass user group in New York City, which gives her the role of unofficial Glass ambassador, as Mashable points out.
In cases like this, Glass Explorers tend to rely on the often erroneous supposition that those who don't embrace the technology are in fact ignorant about it.
From the Glass Almanac blog, which lauded Kasmai's move to "educate" the restaurant about Glass:
Once again, poor Google Glass is caught in the middle of a struggle between those who embrace the technology and those who simply don't understand it.

Not only did Kasmai and Feast rekindle a relationship, but she is now in a position to educate more people about Glass and how it isn't the "always recording" device many people seem to believe.
The "always on" reference feeds off of Google's Top 10 Google Glass myths, one of which is that people purportedly think that Glass is always on and and recording everything.
As I said when I rebunked some of Google's so-called myths, Glass's green camera-on light can be circumvented via software so that you really can't tell when it's recording, while length of recording is irrelevant when you're talking about privacy violation (think upskirting).
There's actually been an extremely interesting conversation going on in the comments section of that rebunking article, about ethics, morals, legality, common sense, privacy, and the ownership of light particles when they bounce off us.
It's the type of nuanced conversation that should be going on – as opposed to one-star reviews of restaurants from people who've never sat down to eat in them.
Image of restaurant courtesy of Feast's Facebook page.
Image of Google Glass courtesy of Hattanas Kumchai / Shutterstock.com.