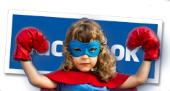 Facebook currently bans children under 13.
Fat lot of good that does.
It's been estimated that millions of preteens log in to Facebook every day.
Once there, there's not much preventing them from coming across people bullying others, spreading hate speech, defrauding, spamming, and committing other online crimes.
Now, it looks like Facebook's got plans to let kids sign up, with parental authorisation, as opposed to just slipping through the cracks by lying about their age.
The site's filed a patent application, made public on Thursday, for a system that lets children create accounts with parental supervision.
This means, of course, that Facebook may well be on the brink of extending membership to kids under 13.
Here's the patent abstract:
When a user having an age less than a threshold age (a child user) attempts to access an online service or perform actions using the online service, the online service obtains parental authorization from an additional user having a parental relationship to the user. The child user may identify the user having the parental relationship and the online service verifies the validity of the identified user's account, the age of the identified user, and/or a connection between the identified user and the child user having a parental relationship type. The online service may make these verifications based in part social and transactional information associated with the identified user's account. Upon successful verification, the online service allows the identified user to authorize account creation for the child user, and/or manage the account and actions of the child user.
In other words, Facebook's patent application includes plans to let a parent (or somebody in a parental role) manage what a child does on the site.
That could include setting privacy controls, limiting and monitoring content type, and controlling who a child befriends and what third-party applications they interact with.
Mind you, this is not the first time Facebook's made moves to welcome children into the fold.
A spokesman told Politico that the patent application was first filed in 2012.
It's not a sure thing, he said, given that a patent application "is not a predictor of future work in this area."
But the patent application does point to Facebook's ongoing efforts to keep kids safe online, he said:
Child safety advocates, policymakers and companies have discussed how best to help parents keep their kids safe online. Like any responsible company, we looked at ways to tackle this issue.
Facebook could only sign up preteens for membership if it complies with the Children's Online Privacy Protection Act (COPPA), a 1998 US law that governs what kind of information companies can collect on kids under 13.
That means the US Federal Trade Commission (FTC), which enforces COPPA, would probably have to sign off on any new method for proving a parent's identity.
Other sites that collect children's information do this by requiring parents to prove their identity via credit cards or faxed ID documentation.
When Politico reached out to the FTC, a spokesman declined to comment on whether Facebook has yet filed such a proposal.
Privacy rights groups are dubious about Facebook's ability to keep kids safe.
Julia Horowitz, a consumer protection counsel for the Electronic Privacy Information Center, told Politico that it's tough enough to keep kids from talking to strangers in the street, let alone when they plop down in front of computers where they could well be approached, groomed for abuse and victimised:
It seems like it's hard enough for parents to tell kids, 'Don't tell strangers what your name is.' Then you put them in front of a computer, and ask them to make decisions about what information to share. That's an adult level of discretion that's unreasonable to ask of children.
I agree.
But the truth of the matter is that children are, in fact, now on Facebook, with or without parental oversight. They won't stop getting on there, regardless of whether or not Facebook is kept from straightforwardly accepting preteen members.
Once they're there, bad things can happen. Naked Security reports on children being cyberbullied or groomed by paedophiles via Facebook and subsequently sexually abused to a sickening degree.
Will a Facebook-created preteen signup mitigate any of those horrors?
As it is, in November the FTC shot down a proposed verifiable parental consent method submitted by AssertID under COPPA.
Basically, the FTC told AssertID in a letter, users can easily fabricate Facebook profiles.
It's damn hard to verify that somebody who says they're a parent is actually, in fact, a parent.
In fact, the agency pointed out, Facebook's own 10-Q filing with the Securities and Exchange Commission indicates it has approximately 83 million fake accounts, which represents about 8.7% of its users.
More work obviously needs to be done on methods of verifying ID.
In the meantime, Facebook has been making good efforts at cleaning up the slimiest corners of Facelandia.
Up until last year, when Facebook finally decided that rape jokes and gender hate speech weren't creating what you might call a family-friendly atmosphere, you could find pages that extolled some pretty unsavoury stuff, including rapes and the rape drug Rohypnol.
Those pages are now part of Facebook history.
Facebook has also been doing great work with anti-bullying efforts, including working with Yale University's Center for Emotional Intelligence in its efforts to tweak language and methods on its report abuse function – efforts that came with new tools for bullying victims in a recently rolled out Bullying Prevention Centre for the UK and Europe.
That's a start. If children are going to be directly courted in the future, let's hope those efforts get ever stronger.
Facebook needs to find ways to cut child predators off before they groom victims, for example.
Parents, what else do you want to see Facebook work on before it rolls out the red carpet for your kids? Please share your thoughts in the comments section below.
To keep your, and your kids', Facebook accounts safer, check out Naked Security's newly updated tips.

Also, for more tips on helping children and teens who might be cyber-bullied, check out our 10 tips to keep kids and teens safe online.
And of course you'll find us right there with you on Facebook, working to keep you and your kids safer online, so please consider liking the Naked Security page to get updates.
Image of super-kid courtesy of Shutterstock.