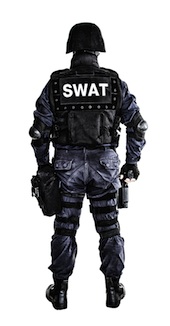 A teenager from Sydney, Australia, was arrested on Wednesday morning after a hoax message led 20 police officers in bulletproof vests to an address in the suburb of Arncliffe.
Having been told that residents were tied up inside the home, and that shots had been fired, the officers swooped on the address at 4.40 am.
Mathew McGrath, 18, surrendered immediately and was taken to Kogarah police station where he was questioned and subsequently released without charge, having told officers that he did not make the prank call.
It now appears that McGrath may have fallen victim to a form of hoax known as 'swatting' in which a prankster attempts to convince law enforcement that a major incident is occuring at another person's address.
Unlike the hoaxes of yesteryear, a swatter tends to take advantage of modern technology, using methods such as hacking into a victim's computer and using it to make a call to police via Skype or similar, or using a program to send out a spoof text message from the victims' phone.
Local police officers certainly seem to believe that could be a possibility in the case of McGrath, whose three computers and mobile phone have been taken in for forensic examination. A spokesperson for the local force said:
At this stage of inquiries the matter is being investigated as a public mischief incident.
This incident is believed to be the first of its kind in Australia but swatting is no stranger to the US, which has seen many high-profile celebrities targeted recently.
In 2013, SWAT teams turned up at the homes of Justin Bieber, Chris Brown, Sean Combs, Tom Cruise, Miley Cyrus and Clint Eastwood, to name but a few.
But, as Mathew McGrath now knows, it is not just famous actors and singers that attract the attention of hackers and crazies. Last year security journalist Brian Krebs was also targeted.
While the majority of swatting calls are made to exact revenge or 'for fun', the consequences for all involved are potentially dire, said Kevin Kolby, an assistant special agent with the FBI:
It's only a matter of time before somebody gets seriously injured as a result of one of these incidents.

There have already been close calls. A police officer was injured in a car accident during an emergency response that turned out to be a swatting incident, and some unsuspecting victims - caught off guard when SWAT teams suddenly arrived on their doorstep - have suffered mild heart attacks.
It can also only be a matter of time before a US home owner with a fondness for the Second Amendment becomes overly startled by a large number of people smashing through their door in the middle of the night.
Image of SWAT team courtesy of Shutterstock.