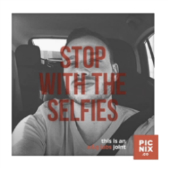 Is your Instagram experience polluted by people who post too many selfies? Cat photos? Pictures of food?
Do you lack the courage to actually do something upfront about it – like, say, simply tell your friend that the 37th photo of their kid on a beach is a bit much?
Enter the extremely short-lived Pic Nix, launched last week: a free service that for the span of about one day allowed you to anonymously tell your friends to stop posting annoying Instagram photos.
In the internet startup time equivalent of slapping a mosquito, Instagram flattened Pic Nix, which had been very nicely described by The Verge as a "robot-powered shame machine".
The terse message now on Pic Nix's website:

WE'VE BEEN NIXED

We thought it was a cool idea to help people anonymously tell their friends to stop posting clichéd photos, but Instagram didn't think so. Even though they shut down our account, we're not done making cool things.
Pic Nix's maker is the 'Labs' research and development arm of ad agency A&G. The agency had said that the service's raison d'être was that Instagram was, sadly, "getting overrun by clichéd photos from uninspired users."
Before this purported crisis of mediocrity "reached epic proportions", A&G Labs said it wanted to try and do something about it: namely, create a service "to anonymously drop the hammer on those annoying Instagrammers polluting your feed."
The service was designed to let users anonymously cast shame on their friends for 16 categories of sins – too many photos of frou-frou coffee drinks, for example.
The thing is, Instagram's API doesn't allow third-party applications to publish photos to the app, so Pic Nix had to invent a sheepskin to pull over its wolf's hide.
That's where SILENT B.O.B. came in.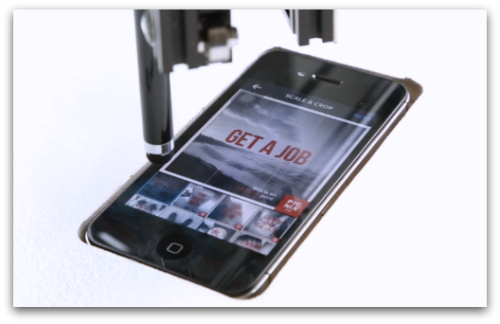 How it worked:
Select the Instagram user you want to call out.
Choose the offense you want to address.
Select one of two pre-populated photo captions that include the offender's username.
Review a customised Instagram mockup of the post and submit it when satisfied.
On the backend, to get around Instagram's blocking of publishing by a third-party app, A&G Labs set up a robot to replicate the action of a human.
That was SILENT B.O.B. – an Arduino-powered xy plotter that mimicked a human hand keying in a post on an actual iPhone.
A&G created a custom Instagram post API powered by the robotic input.
A user post submitted through PicNix.com was sent to a custom Java app that controlled the robot and a Bluetooth keyboard emulator.
The robot tapped out coordinates on an iPhone to build an Instagram post by typing in an image caption and user handle. It took about 2 minutes to build each post.
The submission was then published to the PicNixer Instagram account, criticising the offending Instagram user by tagging him or her in the post.
When the target opened Instagram, he or she received an alert about being tagged by "PicNixer". The critic stayed anonymous, and "the annoying Instagrammer" was "put on notice", A&G Labs said.
Its project website has a video showing the service and SILENT B.O.B. in action.
The Daily Dot hypothesizes that Instagram may well have been motivated mostly by the bottom line when it moved to squash Pic Nix, but that we haven't lost much: the world is better served "without an extra layer of maliciousness on social media", writes Rebecca Hiscott.
I strongly agree.
We already know that trolls, for one, thrive on anonymity. YouTube comments became a cesspool because people can get nasty, Google "real name" policy or no.
Things are bad enough with cyberbullying already. The rise of anonymous sharing apps – Yik Yak, Whisper, PostSecret, Ask.fm – has led to toxic bullying increases and school bans of Yik Yak, for one.
We don't need another way to be mean behind the cloak of anonymity.
The service was a clever use of neat technology.
The developers will hopefully repurpose it for something more socially redeeming.
And it would be nice to see if the repurposed technology could be used without skirting another business's policies, to boot.
Images taken from A&G Labs promo video.