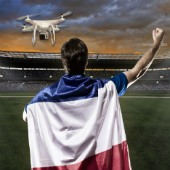 France is shaking its fist at what it thinks may have been a spy drone snooping on its World Cup 2014 football team.
The team was training at its Brazilian base in Ribeirao Preto for the opening game with Honduras on Sunday.
France manager Didier Deschamps claims that a drone dropped in and started hovering above the pitch, the BBC reports.
According to Ars Technica, the quadricopter appeared, on video, to be a Phantom II autonomous micro-drone with a video camera.
Deschamps told the BBC that the Fédération Internationale de Football Association (FIFA) had been alerted to the incident and were investigating.
Deschamps wasn't doing anything particularly worthy of eavesdropping, he said.
He noted that nowadays the skies are kind of thick during what must be drone mating season:
Apparently drones are used more and more.
Indeed. They're used enough that you can make a brief listicle about them dropping out of the sky and smashing on or near people.
To wit:
A drone that was supposed to be filming an Australian triathlon fell out of the air and struck a competitor in the head, sending her to hospital in April. The owner claimed that it must have been hacked, but that was greeted with much scoffing.
David Zablidowsky, then a 34-year-old Brooklyn musician, in December 2013 was arrested and subsequently fined for flying his drone over Manhattan – or, rather, flying, then sending it smashing into buildings like a drunken Roomba causing it to plummet more than 20 stories and crash on the sidewalk 20 feet from a pedestrian. That pedestrian then gave the video to WABC News.
A drone sent out to collect aerial footage of the running of the bulls in Richmond, Virginia, spiraled out of control and barreled into a frightened crowd in August 2013.
The drone that hovered over France's pitch at least didn't plummet onto the players, at any rate, but Deschamps did note that it was an invasion of privacy:
We don't want any intrusion into our privacy. It's very hard to fight this these days.
Image of drone and French football courtesy of Shutterstock.