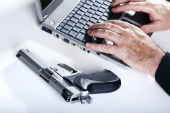 In 2010, the wife of a US man from Pennsylvania, Anthony D. Elonis, took their two kids and left him.
Elonis began making threatening Facebook posts, including a comment on his sister-in-law's post about taking her niece and nephew (Elonis's son) trick-or-treating:
Tell [my son] he should dress up as matricide for Halloween. I don't know what his costume would entail though. Maybe [my ex-wife's] head on a stick?
Plenty of vengeful, gory Facebook rants followed, including a description of how he wouldn't rest until his wife's body was "a mess, soaked in blood and dying from all the little cuts".
His wife was granted a restraining order against Elonis.
Then, he posted this:
Fold up your [Protection From Abuse order] and put it in your pocket
Is it thick enough to stop a bullet?
Try to enforce an Order
That was improperly granted in the first place
Me thinks the judge needs an education on true threat jurisprudence
And prison time will add zeroes to my settlement
Which you won't see a lick
Because you suck dog d*** in front of children

****

And if worse comes to worse
I've got enough explosives
to take care of the state police and the sheriff's department
Death threats? Or rap lyrics protected under the First Amendment as free speech, as Elonis claimed in his defense?
The Supreme Court announced on Monday that it will re-examine the case in its upcoming October session, giving us a federal decision on whether threats made online need to be made with real intent, or whether they just have to be taken seriously by a reasonable person who's threatened.
In a December 2010 trial, a federal appeals court had rejected Elonis's claim that his comments were made only because he was depressed, that he never meant to carry out the threats, and that the online posts were made in the form of rap lyrics as a way of venting his frustration after his wife left him.
Elonis has never used explosives on the state police, the sheriff's department, or any SWAT team that might have been sent to his house, but he has spent the past 3.5 years in jail for threatening to do so online.
In fact, he's now serving a 44-month prison term for making death threats not only against his wife but also his former amusement park coworkers and its patrons, police and a kindergarten class. He also wrote on Facebook that he would slit the throat of an FBI agent, adding that he was strapped with explosives.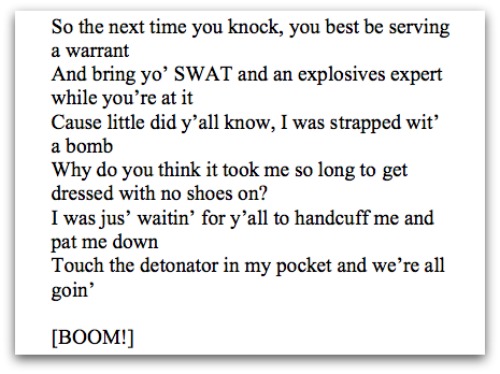 So the next time you knock, you best be serving a warrant
And bring yo' SWAT and an explosives expert while you're at it
Cause little did y'all know, I was strapped wit' a bomb
Why do you think it took me so long to get dressed with no shoes on?
I was jus' waitin' for y'all to handcuff me and pat me down
Touch the detonator in my pocket and we're all goin'
[BOOM!]
The Supreme Court said it will consider whether conviction of threatening another person under federal law "requires proof of the defendant's subjective intent to threaten" – as in, did Elonis mean the messages to be understood as threats?
Elonis's lawyers say that a subjective standard is appropriate given the impersonal nature of communication over the internet, which can lead people to misinterpret messages.
His lawyers argue that comments intended for a smaller audience can be viewed by others unfamiliar with the context, who can interpret the statements differently than was intended.
His wife testified that she was objectively terrified by the posts, especially since they increased after she filed the restraining order against him.
She testified in court that the threats felt very real, that Elonis had rarely listened to rap music during their seven years of marriage, and that she'd never seen him write rap lyrics.
I felt like I was being stalked. I felt extremely afraid for mine and my children's and my families' lives.
For more than 40 years, the Supreme Court has held that "true threats" to harm another person are not protected under the First Amendment.
But the court has also cautioned that laws prohibiting threats mustn't infringe on constitutionally protected speech, which includes "political hyperbole" or "unpleasantly sharp attacks" that fall short of true threats.
The Supreme Court's decision to take up the issue of what constitutes a real online threat comes in the midst of recent rampages that have been presaged by ominous online postings.
One such is the case of Elliot Rodger, the 22-year-old who stabbed his roommates to death and shot University of Santa Barbara students before killing himself last month.
Rodger had left threatening messages on YouTube and online forums.
His parents were so alarmed at the videos that they called police. Police who went to his house never viewed the videos, however.
Another case is that of Jerad and Amanda Miller, a married couple who recently killed three people in Las Vegas, including two police officers, before killing themselves.
Jerad Miller posted this ominous message on his Facebook page before the killings:
The dawn of a new day. May all of our coming sacrifices be worth it.
According to police, the Millers had expressed support on social media sites for renegade Nevada rancher Cliven Bundy, and the husband claimed to have been present at the standoff between federal agents and militia members at Bundy's ranch in April.
Hanni Fakhoury, a lawyer at the Electronic Frontier Foundation, says that there's a lot of fear right now about online threats such as these, but that the Second Amendment – which concerns the right to bear arms – seems to have been elevated above the First Amendment and its protection of free speech.
Fakhoury told Forbes that threats made online should be where police investigations – not prosecutions – start:
We've tolerated stupid speech a long time in this country, and we shouldn't let the internet shake that balance. We need a holistic approach to problems, not just, 'If you say a threat on the internet, you're going to jail.'
Fakhoury believes that convictions should only result if there's proof that the person making the threat intends to act on it – not when, for example, somebody's just drunk, venting, and threatening to shoot President Obama in a Yahoo Finance forum comment, as was the case last year when the Ninth Circuit court overturned US vs. Bagdasarian:
He was drunk and venting. The Ninth Circuit said his subjective mind frame mattered, and prosecutors couldn't prove he meant it. We like that rule.

It should matter whether you mean it or not. In the Internet age, it's even more important because it's so easy to say stupid stuff online. We don't want to lose our right to free speech.
It is very easy to stay stupid stuff online, indeed. Unfortunately, it's very hard to tell if somebody's joking, depressed, venting, or has real, serious intent to do harm.
This is an important question for the Supreme Court to decide.
Social media makes it all too easy to throw something up online, have it taken out of context and then used against us in a court of law.
Our right to stay stupid stuff online should be protected by the First Amendment.
But let's all assume that our stupid stuff can be taken out of context and that such misinterpretation well may trigger police investigation.
In fact, let's pray that it does.
Better to force the posters of stupid things to convincingly explain the context, rather than to have police miss an online threat that was made with every intention of carrying it out.
Image of gun and computer courtesy of Shutterstock.