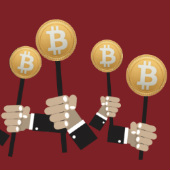 The US Marshals Service (USMS), in charge of auctioning off the 29,656 Bitcoins that the Feds seized from Silk Road servers in January, planned to do so in an anonymous auction on 27 June.
Now, you can scratch the "anonymous" part.
The USMS goofed when sending out an email with an updated FAQ about the auction, CCing recipients instead of BCCing them.
Lynzey Donahue, a USMS spokeswoman, told CoinDesk that the emailer had meant to send recipients an attached informational document and to blind copy all those it intended to contact.
The slip-up entailed only email addresses being disclosed, she said:
The message was not intended for any particular group of people, but for anyone who had emailed a question to the general mailbox to ask about the auction. Only recipient email addresses were disclosed.
In all, 40 bidders were CCed when the somebody at the USMS hit "reply all" in an email thread.
The USMS said that the email was sent to those who inquired about the auction, indicating that the list doesn't necessarily include just bidders:
One of the emails that we sent out this morning inadvertently showed a list of some of the individuals who have asked a question or questions about the pending Bitcoin auction. We apologize for the error.

But most of those whose anonymity has been removed are in fact likely to be bidders.
At the time Silk Road's Bitcoins were seized, the stash was worth about $28 million (£17 million) in virtual currency earned from the black market's trade in drugs and firearms and other illegal activity.
When the USMS announced in January that it would be auctioning the Silk Road haul in nine blocks, the price of Bitcoins slumped.
They're currently worth about $18 million (£10.2m).
CoinDesk notes that the total amount of Bitcoins on the block doesn't include the estimated 140,000 Bitcoins that belong to alleged Silk Road leader Ross Ulbricht, who has sued to contest the sale of the assets.
Having one's email address revealed is an affront to privacy, but that's only the tip of the Bitcoin iceberg.
They've recently been used as phish bait, demanded as extortion payment to get data back if your computer gets scrambled by the CryptoLocker ransomware, and blinked out of existence when boutique Bitcoin exchanges have vanished or when the biggest Bitcoin exchange of all, $500,000,000 worth of Bitcoins, went up in smoke.
Bitcoins have dropped in value since the Silk Road bust. Hopefully, the auction won't be a total snafu.
Image of auction and Bitcoin courtesy of Shutterstock.