Would you trade your password for a candy bar? The candy may be delicious but the potential harm surely isn't.
How about trading your privacy to prove a point? I can pointedly say that this is a bad idea.
→ There has been some warranted speculation that this may be a hoax and it very likely might be. What isn't a hoax is that this is not as far fetched as it seems.
You certainly wouldn't post a picture of your debit or credit card on twitter, right?
Sadly, many people still demonstrate cavalier attitutes towards privacy and security.
It seems like we are still fighting a losing battle with password selection and re-use.
Many are simply ignorant of the implications of such actions while others simply don't care.
It's with all this in mind that set me to thinking about our relationship with privacy when I read a recent news article.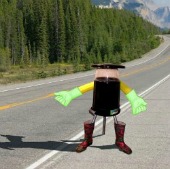 Introducing hitchBOT, a science meets art project, getting ready to hitchhike 6158 km (assuming a direct route) across Canada from Halifax to Victoria next month.
The stated purpose of this project is to turn the question of whether people can trust robots on its head. Can a helpless robot trust people?
HitchBOT has this to say about its upcoming adventure:
As I love meeting people and hearing stories, I invite you to follow my journey and share your hitchhiking stories with me as well. If you see me by the side of the road, pick me up and help me make my way across the country!
HitchBOT will also be capable of carrying on very limited conversation and will be posting updates of its adventures on Twitter, Instagram and Facebook.
This is where the privacy issues creep in.
For the most part, the sample set of people who will be giving hitchBOT a ride will be self-selecting. It's unclear, however, if there will be a clear disclaimer – besides the obvious "don't pick up strange objects on the side of the road" – for the curious among us.
The project members very much want the robot to have a great adventure. To that end, they are encouraging people to pick up the robot and take it to unanticipated places.
The project members have assured us that the posts will be moderated to prevent any unsavoury broadcasts.
Will they also moderate for incidental or accidental pictures, such as walking up to the robot to take a closer look then walking away – and provide a mechanism by which people can have their likeness removed from the various sites?
What happens if you take it to a private function? Without proper consent, the people present should not be included in the photos.
If you do decide to pick up the robot thinking you're being a good samaritan in an attempt to reunite it with its rightful owner, will you then be able to drop it off and have your part of the trip erased after finding out its identity and mission?
What if you want to participate in the project but want to remain anonymous? It might be fun to pick it up, have a private conversation with the robot, take a few of your own pictures and then drop it off somewhere down the road.
Will there be a trackerless/disabled social media setting, sort of like incognito mode in Chrome and many other browsers?
Since hitchBOT will be equipped with GPS and a 3G card, will it track its travelling companions in real time? If so, can the data be redacted or obfuscated afterwards?
If the data are anonymized, will it be done correctly? As we've seen in a recent example, even with the best intentions it's easy to get it wrong
I didn't see any clear answers to the questions above.
This is an interesting project. More so because it makes us think about our attitudes towards privacy and how we can make it better.
If you are interested in hitchBOT, you can follow its adventures across Canada through the website or via Twitter.
If I happen to spot the intrepid traveller on the road this summer, I'll make sure to take a photo and post it on Naked Security.
Image of chocolate bar courtesy of Shutterstock. Image of hitchBOT courtesy of hitchBOT website/Instagram