It's been a groin-grabbingly bad week for US men when it comes to revenge porn.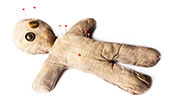 On Monday morning, one of Twitter's political sides exploded with revelations that a troll had leaked screen captures of a text message exchange and email, all of which suggested an extramarital affair between former NSA analyst John Schindler and a conservative Twitter user named Lesley.
A photo of a penis was involved in that scuffle.
And a similar picture led to the resignation on Tuesday of a political figure, Adam Kuhn.
Kuhn was chief of staff to Ohio GOP Rep. Steve Stivers, at least until a former porn actress – who describes herself as a "Pornstar Pundit and debate lover" – posted an explicit photo of him online.
He's single. She's married.
Regardless of marital details, it boiled down to classic revenge porn, with the simple swappage of the more typical male-on-female troll setup.
It started last week, when the woman, Jennifer Roubenes Allbaugh – who uses the name "Ruby", among other stage names – tweeted at least one photo of Kuhn's penis to Stivers' Twitter account, as she confirmed to Politico.
She claimed that she was upset after Kuhn broke off their relationship.
Kuhn has 'fessed up and apologised. So, too, has his tormenter. His statement to Politico:
Over the weekend, I was the victim of an attack on Twitter from a woman I had a relationship with in my personal life. I realize and apologise I had used poor judgement in my personal life regarding this relationship. The woman who posted this has reached out to me to apologise.
Schindler's case is a bit more complicated.
Beyond being a former analyst to the National Security Agency (NSA), he teaches at the Naval War College and has been a prominent, vocal defender of the NSA in the era of Edward Snowden-fueled revelations.
The media went a little giddy over the story – yes, I do believe it was a rather slow week, news-wise – with a spate of finger-wagging and charges of sexual harassment.
When the truth emerged, it turned out that the affair was consensual and that the photo had actually been solicited by Lesley.
In a series of confessional tweets on Tuesday afternoon, she exculpated Schindler from accusations of harassment, apologised to Schindler and his wife, and explained that she was merely trying to expose the affair to his wife via a self-described Twitter troll named Trent Jensen (or Jenson; media reports have both spellings) who goes by the handle @T3H_ARCH3R, who has since suspended his account.
Schindler himself confessed to everything in a blog posting on Thursday, saying that the "only person to blame is me" and that he takes "full responsibility."
Full responsibility for what?
Cheating on his wife? OK, apologising is understandable in that case.
He doesn't have much to apologise for beyond that, given that he didn't break any laws, as he pointed out:
At no time did I break the law, nor am I being accused of doing so. I never stalked or harassed anyone at any time. The record now reflects this, and I'm pleased to see that the media have corrected their reporting.
…but he most certainly did use poor judgment, as revenge-porn victims so often do, regrettably.
Of course, revenge porn is an online industry unto itself – a subgenre of internet trollery that's been formalised in true capitalist manner.
The infamous IsAnybodyDown site, for example, was running something of a soup-to-nuts (ahem) monopoly wherein its owner impersonated a woman to trick victims into sending him nude photos, then ran a photo-takedown service that promised to get those photos off his site – for a fee.
You Got Posted was another revenge-porn site working on this same model.
On 18 March 2014, a federal district court judge in Ohio ordered two of the site's founders to pay one of their victims $385,000 for posting sexually explicit images of her on their website.
To Schindler's credit, this regrettable incident has given him pause regarding his own behaviour on social media, where he admits to having been disrespectful of others' views:
I've reviewed my Twitter history, and quite frankly, I'm disappointed. Far too often, I've been rude and dismissive of other people's views. I apologize to anyone whom I've treated disrespectfully.
I am a teacher, and my job is to educate—to bring light, not heat. I'm using this unfortunate episode as opportunity to recommit myself to fostering a polite, civil, and enlightening exchange on the important issues of our day.
Making poor choices about how to treat others on social media will most certainly incite trolls to gang up on you.
But a more elemental bad choice in both these instances of revenge porn was that both men failed to exercise a basic element of cyber security: namely, being extremely careful when posting images online or via any wireless communication, whether it's computer, phone, or tablet – most particularly images that could be used to embarrass, threaten or sextort victims.
To that end, I'm offering up Naked Security's 10 tips from Safer Internet Day 2014 to get us all thinking before we engage in online activity.
Just because it's legal and non-harassing to send a photo of your private parts doesn't mean it won't come back to bite you.
One of Schindler's trolls lodged a complaint against him with the Naval War College. Kuhn lost his job and damaged his career.
Don't suffer from similar repercussions. There are too many people online who can profit from bad choices.
Stay safe, think twice about sending possibly embarrassing images or text, and always make sure to wipe your gadgets clean before selling them.
Image of voodoo doll courtesy of Shutterstock.