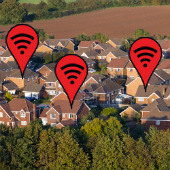 The US Supreme Court on Monday turned its back on Google's pleas to make the WiSpy scandal go away.
The Supreme Court isn't in the habit of giving reasons as to why it won't hear a case.
Fittingly, it didn't explain why it was allowing a case accusing Google of wiretapping to proceed.
The lawsuit started up after Google in March 2013 admitted that yes, its Street View cars had hijacked people's privacy by slurping data being sent via unencrypted WiFi networks as its cars drove through neighborhoods.
That payload included emails, text messages and passwords.
The case was heard by an appeals court in September 2013.
The court found that the WiFi-sniffing of Google's Street View cars may have violated the Wiretap Act.
In April 2014, Google asked the Supreme Court to dismiss the class action suit.
On Monday, a Supreme Court that's moving – in fits and starts, anyway – toward a stronger role in protecting privacy declined to do as Google asked.
Of course, the US is not the only country that's brought Google to court over Street View. This story's been wobbling along for years now, as multiple countries have taken Google to task.
Just a few of the highlights:
The ruckus began in 2010, when it emerged that since 2007 Google had been sucking up WiFi payload data at the same time it was locating access points.
Google denied it. It wasn't collecting or storing payload data, it said.
Except, whoops! It was. The company admitted that it actually did store payload data.
In fact, Google staff knew about the Street View data breach since 2007, it turned out.
The US, France, Australia, Brazil and the UK all went after Google with fines, inquiries and lawsuits.
The Electronic Privacy Information Center (EPIC) has this handy map that shows which countries are bristling with investigations, sanctions, or public protest against Google's snoopery.
Marc Rotenberg, of EPIC – which filed a brief in the appeals court supporting the plaintiffs – called Monday's decision "a significant victory for internet users," adding, "The Supreme Court left in place a decision that protects private residential networks from snooping by Google and others," according to the New York Times.
It's not hard to see why Google wants the courts to hook a hitch onto the WiSpy fiasco and tow it far, far away.
As it is, the data behemoth is scheming to control even more data about people than it now does, focusing on the growing fitness data marketplace with its Google Fit service.
With Google Fit, it will be slugging it out with the likes of Apple and Samsung to control the data flowing from fitness trackers and health-related apps.
Consumer advocates are already calling that nascent field a privacy nightmare, given how such apps casually shed personal data to the highest bidder.
Google doesn't just want data from our PCs.
It wants it from our wearables, from our fitness apps, and from our cars, as it made clear in last week's annual developer conference.
What it does not want: for this long-lived WiSpy case to keep puttering on, offering a scenic tour of how Google knowingly, very likely illegally, reaped data, then lied about it.
Fortunately for privacy, unfortunately for Google's hopes of this case going away, US courts have been sporadically veering toward greater privacy protection against this type of technological incursion.
One recent example was a decision in June that found warrantless tracking of mobile phones to be unconstitutional.
Then too, also in June, the US House voted overwhelmingly to cut funding of NSA surveillance.
The Supreme Court's refusal to drag Google out of the Street View ditch is yet one more welcome sign that there's change afoot – change that will hopefully mean that regulators and courts will keep an ever-sharper eye on Google as it hoovers up ever more data about us.
Image of houses courtesy of Shutterstock.