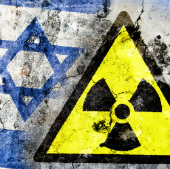 Residents of the Southern District of Israel may have felt alarmed on Thursday after the Twitter account of the Israeli Defence Force warned of a possible leak at the Dimona nuclear facility:
#WARNING: Possible nuclear leak in the region after 2 rockets hit Dimona nuclear facility
The Negev Nuclear Research Center (to give it its correct name) may be located in the desert but it is only 13 kilometres away from the city and the news that it had been hit by two rockets caused a brief panic amongst some of the IDF's 252,000 followers.
Fortunately though, residents had no need to scramble to a bunker or jump inside a lead-lined refrigerator as the tweet was bogus, having been issued by the Syrian Electronic Army (SEA) who had hacked the account.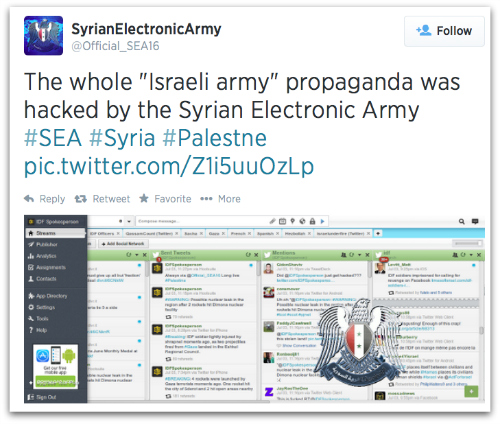 A screenshot published by the SEA shows that the group gained access to IDF's Hootsuite dashboard, a Twitter client that can be used to manage tweets, send private messages and monitor mentions.
A second tweet was also sent out through the hacked account:

Always via @Official_SEA16 Long live #Palestine
When the IDF discovered what had happened it removed both of the tweets and published an apology on the social site:
We apologize for the incorrect tweets Our twitter account was compromised. We will combat terror on all fronts including the cyber dimension
The Twitter hack comes less than a week after the Syrian Electronic Army took aim at the IDF's official blog. On Sunday the blog , which is "currently under maintenance", was defaced and showed a message written in Arabic.
It is not yet known how the SEA executed either of the hacks but the group is well known for its use of phishing as a means of acquiring account credentials, as seen in the recent attacks against third-party ad provider Taboola and content recommendation service Outbrain .
Other high-profile attacks undertaken by the SEA, described by one of their members as "Syrian youths who want to defend their country against the media campaign that is full of lies and fabricated news reports," include the Financial Times, the BBC, CNN and The Onion.
Image of radiation sign against Israeli flag courtesy of Shutterstock.