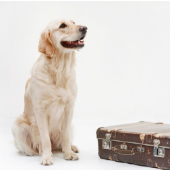 When it comes to uncovering child pornographers, investigators sometimes just get lucky.
For example, there was the child sex abuse addict who turned himself in to cops a year ago after getting tricked into it by ransomware.
In January, it was a routine police visit that led to the bust of an international webcam child abuse ring.
Then again, investigators also dig out child porn rings from the slimiest parts of the dark web, like the 27,000-member child abuse ring buried on Tor that the US Department of Homeland Security (DHS) uncovered in March.
Now, investigators in the US state of Rhode Island have a new tool for finding child porn.
The tool is named Thoreau, and Thoreau is a golden Labrador retriever.
He sniffs out gadgets in exchange for food.
According to the Providence Journal, Rhode Island recently became the second state in the nation to employ a police dog that's trained to sniff out hard drives, thumb drives and other devices that could contain child pornography.
Of course, Thoreau can't sniff out specific content.
Rather, Thoreau, trained for 22 weeks at the Connecticut State Police Training Academy, can detect hidden electronics, whether it's a thumb drive encased in a tin hidden deep in a metal cabinet or a hard drive sealed inside a plastic bag in the upper shelf of a desk.
As the Providence Journal reports, child abuse image addicts often hide devices in ceiling tiles or even radios – places that police might miss but that a dog's sharp nose will track down.
Last month, Thoreau assisted in his first real-life, non-practice search when he pinpointed a thumb drive containing child pornography hidden four layers deep in a tin box inside a metal cabinet.
The discovery led to the police securing an arrest warrant, the Providence Journal reports.
Detective Adam Houston, Thoreau's handler, says that this is how the dog earns its keep: sniffing out memory cards in exchange for food.
This is how he eats every day.
If it has a memory card, he'll sniff it out.
Detection dogs are trained to find a range of inanimate and animate things, including sniffing out cancer, human remains, invasive species such as the Quagga mussel, fire accelerants in arson investigations, drugs, explosives, firearms, endangered species such as the black-footed ferret or bumblebee nests, mold, termites, or mobile phones hidden as contraband in prisons.
In fact, dogs beat out the $19 billion worth of new and improved technology the US Pentagon purchased to detect bombs.
With the use of dogs to detect gadgets that might contain child porn, we have yet another blessed use of the analog – the miraculous physiology that goes into a dog's sense of smell – to combat the rising scourge of digitally enabled child abuse.
Let's hope that other states – and countries – see fit to adopt the living, breathing technology that bested the finest technology the Pentagon could come up with.
Image of golden retriever dog (not actually Thoreau) and suitcase courtesy of Shutterstock.