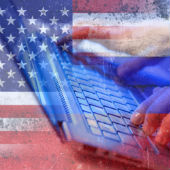 The US has arrested a Russian MP's son for allegedly breaking into point-of-sale (PoS) systems at retailers throughout the country, causing his dad to cry foul and the government to label it a "hostile move by Washington" that ignored proper procedure in dealing with foreign nationals suspected of crimes.
A press release put out by the office of US Attorney Jenny A. Durkan, of the Western District of Washington, said that Roman Valerevich Seleznev, 30, of Vladivostok, also known as "Track2" in the criminal carding underground, was arrested over the weekend and transported to Guam for an initial court appearance.
According to the indictment (PDF), Seleznev allegedly hacked into retail PoS systems and installed malware that would steal credit card numbers.
Between October 2009 and February 2011, he allegedly ran an operation that stole credit card information and then used servers all over the world to sell the data, including servers that hosted carding forum websites where crooks could sell stolen credit card numbers.
The indictment charges Seleznev with five counts of bank fraud, eight counts of intentionally causing damage to a protected computer, eight counts of obtaining information from a protected computer, one count of possession of 15 or more unauthorized access devices (stolen credit card numbers), two counts of trafficking in unauthorized access devices and five counts of aggravated identity theft.
He's also charged in a separate indictment in the District of Nevada with participating in a racketeer influenced corrupt organisation (RICO) and conspiracy to engage in a racketeer influenced corrupt organisation, as well as two counts of possession of 15 or more counterfeit and unauthorized access devices.
Add it up, and the maximum penalties are 97 years in prison and $750,000 in fines.
Seleznev's dad, and the Russian government, say it's all a load of cow patties.
His father, Valery Seleznyov, a State Duma member representing the Liberal Democratic Party (LDPR), called the arrest a "monstrous lie and provocation" and said that his son has nothing to do with computer technology.
In an interview with RT, the hacking suspect's father called the seizure of his son an illegal kidnapping and conjectured that it might be a ploy to get Edward Snowden back onto US soil:
For all I know they may be demanding a ransom tomorrow. Or try to exchange him for [National Securty Agency whistleblower Edward] Snowden or somebody. One can only wonder.
The Russian government also declared the charges to be bogus.
Here's what the Russian Foreign Ministry had to say about the arrest on Tuesday, according to the Russian news agency ITAR-TASS:
We consider the incident as another [of] Washington's unfriendly [steps].

It is not the first time that the US kidnaps a Russian citizen ignoring the 1999 mutual legal assistance agreement.
The ministry pointed to what it said were similar instances where the US grabbed Russians in foreign countries and convicted them on "questionable charges", including Viktor Bout and Konstantin Yaroshenko.
Image of US and Russian flags and typing on keyboard courtesy of Shutterstock.