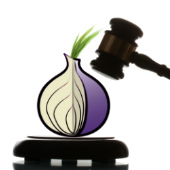 A Texas revenge-porn victim is suing the operators of revenge-porn site PinkMeth.com and was (until her lawyer figured out just what, exactly, the anonymising service Tor actually is) suing The Tor Project for helping PinkMeth to operate anonymously.
The plaintiff, Shelby Conklin, is a criminal justice major at a Texas university.
In her complaint, Conklin had originally lumped Tor in with other hosting providers, saying that she was pulling the nonprofit into the lawsuit because it's an "unscrupulous" Internet service company that allows PinkMeth and its ilk, plus PinkMeth's users, to escape accountability for their actions.
From the court filing:
Many unscrupulous companies offer services that allow illegal websites such as Pinkmeth to remain anonymous and difficult for authorities to shut down. Indeed, Pinkmeth's Twitter feed advertises its website as being a website "where your state laws don't apply."
Like other revenge-porn sites, PinkMeth is, naturally, the refuge of scumbags.
Its operators encourage users to upload and publicly share sexually explicit material without consent from its subjects.
It also posts contact and social media information of subjects right up besides their nude photos or video.
One victim of PinkMeth's attention told Gawker that after a good Samaritan informed her parents when her "boobs were on the internet," she saw this on PinkMeth:
Sure enough, there I was, naked as a jaybird for anyone to see. As if that wasn't bad enough, someone had kindly taken a snapshot of my Facebook front page, included a link, and also attached a link to my Google+ profile.
PinkMeth obviously can't muster the wherewithal to always go around forming complete sentences, meaning that its response when such victims ask the site to take down content has typically consisted of a one-word grunt of "nope."
Texas attorney Jason Lee Van Dyke, whose Twitter handle is @MeanTXLawyer and who boasts about being "quite possibly the meanest and most right-wing lawyer in Texas," is working on the case for Conklin.
He linked to the suit Wednesday morning as part of a series of taunts on Twitter.
…After which he published a link to a press release (PDF) saying that, basically, he hadn't yet been able to find any evidence that Tor had provided any goods or services to PinkMeth.
From the press release:
We are still working to determine what degree of control, if any, TOR has over those who use TOR hidden services and to what extent they may be able to provide us information regarding those responsible for publishing PinkMeth. Naturally, if TOR has played no role in PinkMeth's re-emergence, has not provided PinkMeth with goods or services of any kind, and is unable even to assist in identifying those responsible for publishing PinkMeth, they will be dismissed from our lawsuit.
…then, on Thursday, he tweeted that litigation against Tor had ended, effective immediately:
Litigation against @torproject has ended, effective immediately. We will be seeking judgment only against @pinkmeth pic.twitter.com/csCxr1LGpp

— Jason L. Van Dyke (@MeanTXLawyer) July 10, 2014
Van Dyke's filing is being called so bad, it brings into question how he managed to pass the bar.
It's easy to see where he got confused about Tor, though.
As it is, a Texas judge in December 2012 ordered an "indefinite" lock on the PinkMeth.com domain name until the case went to trial in December 2013, forcing VeriSign to put the domain on hold so it couldn't be transferred or deleted, nor could its contact details be modified.
Van Dyke got the credit on that one:
Jason Lee Van Dyke is the one responsible for pinkmeth .so coming down yesterday. Send some much-deserved gratitude his way!

— End Revenge Porn (@EndRevengePorn) January 26, 2013
End Revenge Porn @EndRevengePorn

Jason Lee Van Dyke is the one responsible for pinkmeth .so coming down yesterday. Send some much-deserved gratitude his way!
And must have assumed he could replicate that success with Tor.
The PinkMeth site homepage itself undoubtedly bolstered that notion.
After a nose-thumbing list of headlines that chronicle how its operators have kept the franchise going in spite of such shutdowns – for example, by opening up three sites to replace two shuttered sites – its operators encourage visitors to contribute to the Tor Project and the Tor2Web Operators if they enjoy the site.
No wonder Van Dyke thought that Tor was in cahoots with PinkMeth.
The Verge does a nice job of explaining what Van Dyke didn't get about Tor: namely, its agnosticism, for one, and also its technological near-impenetrability:
Tor is agnostic about the capabilities it enables, which range from getting around oppressive government firewalls to buying illegal drugs. It has no hand in "registering" sites that use it, even if Van Dyke claims that Pink Meth's operation signifies "continued tolerance and endorsement." The servers behind hidden services are difficult to find and shut down, and law enforcement so far has only been able to do so by looking for sloppy user behavior to exploit.
Exactly. Even the National Security Agency hates Tor for being so hard to crack.
We want Van Dyke to succeed. We want revenge porn sites to shrivel up and die.
To that end, let's hope that Van Dyke, if not conversant with Tor, will at least be familiar with the good old "it's our users, not us" shtick, also known as the "hide-behind-Section-230" ploy.
For some time, that's the tactic that revenge-porn king Hunter Moore, for one, used.
Section 230 of the Communications Decency Act states that websites are immune from legal responsibility for content submitted by others.
Section 230 probably won't save Moore if the courts find him guilty of having hacked into victims' email accounts to steal nude photos to publish.
Moore, in fact, was indicted in January 2014 on seven counts of aggravated identity theft related to hacking photos away from victims.
Moore hacked himself right out of a Section 230 defence. Would that PinkMeth were so dumb. If not, let's hope Van Dyke is boning up on ways to get around that defense.
According to the National Conference of State Legislatures, 10 US states have enacted revenge-porn laws, with legislation pending in other states.
Texas doesn't have a revenge porn law, but it's been sympathetic to victims, having in February awarded $500,000 (£292,000) in a revenge-porn suit against an ex-boyfriend.
Mr. Van Dyke, we want you to win this one. Texas courts have proved sympathetic, as well.
Please, don't waste precious time and effort picking on blameless parties such as the Tor developers.
Image of gavel courtesy of Shutterstock.