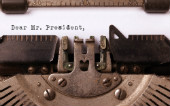 Germany is thinking about using manual typewriters to evade US snooping.
According to The Guardian, the head of the Bundestag's parliamentary inquiry into National Security Agency (NSA) activity in Germany – Christian Democrat politican Patrick Sensburg – said in an interview with Morgenmagazin TV that he and his colleagues were considering tossing email completely.
From The Guardian's translation:
Interviewer: Are you considering typewriters?
Sensburg: As a matter of fact, we have - and not electronic models either.
Surprised interviewer: Really?
Sensburg: Yes, no joke.
The NSA inquiry, which began in May 2014, is charged with determining:
...whether, in what way and on what scale ... the intelligence services of the "Five Eyes" states (United States of America, United Kingdom, Canada, Australia and New Zealand) collected or are collecting data ... from, to and in Germany. ...
Sensburg noted that US snooping is ongoing.
In fact, spies may even be listening in on the inquiry itself.
On Monday, German newspaper Der Tagesspiegel reported (Google translation) that two Bundestag members had evidence that their phones had been tapped.
Also, the proceedings of the parliamentary committee were rocked on 3 July by an announcement that Germany's intelligence agency – the Bundesnachrichtendienst or BND – had discovered a double agent in its ranks.
On 3 July, news broke that the suspect admitted not only to selling secret documents to Russian intelligence, but also to offering to pass on to the NSA confidential information about the inquiry.
He was later identified as Markus R., a 31-year old employee of BND, who'd been arrested on suspicion of spying for the Americans.
According to Reuters, Markus R. had a desk job at the BND's headquarters in southern Germany, working for a department responsible for protecting soldiers serving abroad.
Sources said that he contacted the CIA by email in 2012, offering to hand over information coming from his workplace, which handles message traffic between headquarters and the German agency's out-stations around the world.
They must have been pretty happy to take it: he told investigators he met with a CIA agent three times in Austria, on top of plenty of email exchanges. Some of the documents Marcus R. passed on concerned the parliament's NSA investigation.
Berlin expelled the top CIA agent in Germany following discovery of yet another spying suspect.
Sensburg had this to say:
Unlike other inquiry committees, we are investigating an ongoing situation. Intelligence activities are still going on, they are happening.
Germany's race to the air-gapped technology bottom surpasses that of Russia, which last year reportedly proclaimed it was going to buy 20 Triumph-Adler electric typewriters.
Russia's choice of using supposedly spy-proof electronic typewriters is ironic.
Soviets in the 70s installed keyloggers – actual keystroke recorders – on one of the first and most popular models, IBM's "Selectric", in at least 12 machines at US embassy buildings in Moscow and St. Petersburg.
As far as Germany's (manual) typewriter plans go, Sensburg is not, mind you, a Luddite. Besides considering the use of typewriters, he also announced publicly that he plans to have the NSA committees' mobile phones subjected to a security audit.
Ars Technica quotes him:
I'm going to ask the other chairmen and committee members to have their phones checked at once.
But how spy-proof are even manual typewriters?
After all, as buggable as electronic communications are, paper documents can still be stolen, photographed, lost in a fire, or left in a briefcase in a public place.
So what does that leave?
Image of typewriter courtesy of Shutterstock.